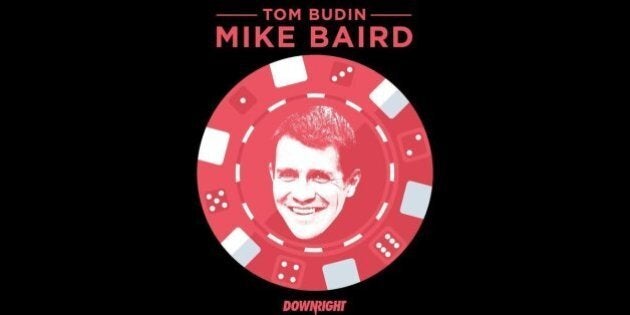 NSW Premier Mike Baird and his government's lockout laws have been immortalised in song, following the vocal efforts of Sydney based musicians.
Producer and DJ Tom Budin, 20, told the Huffington Post Australia he decided to write his dance track 'Mike Baird' following the recent social media backlash to the lockout laws.
The track was uploaded to iTunes on Monday, a day after The Ministry of Sound Australia posted it on YouTube.
"I reckon my DJing opportunities in the city have probably been reduced up to 75 percent," the Ryde native told the HuffPost.
"No kidding. I go out on a Saturday night and it gets to one o'clock and the bars are almost empty. A year ago, it would have been partying til the morning, partying til the light."
Budin said a portion of proceeds from the track would go towards Keep Sydney Open, an anti-lockout alliance of live music and performance venues, artists and music industry stakeholders.
He said he wants a safe environment for his gigs, but he questioned whether the lockout laws were the best approach.
"Instead of locking everybody out, should we be educating people on the potential of what can happen, how to assess the situation, how to diffuse situations, the violence," he said.
A spokesman for Baird declined to comment on the song's message or funkiness.
Budin's track is the latest to take aim at Baird, after dance trio Art Vs Science last week released their track, You Got to Stop, aimed squarely at the laws.
"You could have encouraged other nightlife venues to be made further away from the city," the band said in a Facebook Post.
"You could have addressed the latent aggression of a society divided by money and social status, bubbling to the surface after a few drinks. But you didn't.
"You and your government chose instead to throw the baby out with the bathwater."
A taste of Art Vs Science's lyrics:
Lock us out, lock us in and lock us down
Turn this wild city to a sleepy little town
Misguided rains you're pouring heavy from above
But you can't contain the flames of the fire that we love.
After mounting a strong defence of the lockout laws last week, Baird faced intense backlash and later appeared to soften his tone.
"To be honest I have been surprised, it's a huge outpouring and there are two sides to the debate," Baird said.
An independent review into Sydney's lockout laws will be headed up by former High Court judge Ian Callinan QC.
Flight Facilities, The Preatures and Alison Wonderland -- who all got their start thanks to Sydney's once thriving music scene and now enjoy international acclaim -- have called out Baird for "ignoring us" while blaming an outdated mentality for ruining Sydney's cultural hub.
Jimmy and Hugo of Flight Facilities have said that if the current laws were in effect 10 years ago, their careers would have never came to be.
Keep Sydney Open will be holding a rally in Sydney's Belmore Park on Sunday.