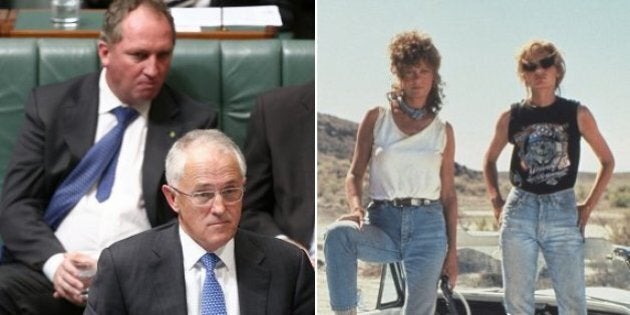 Prime Minister Malcolm Turnbull has a new second-in-command, and it seems like the two new comrades are bonding right away.
Nationals Party senator Barnaby Joyce was last week elected unopposed as leader of the party, making him the new Deputy Prime Minister of Australia. Turnbull is currently touring Queensland, on a four-day visit to the state, and on Tuesday met with Joyce in Rockhampton to officially open a new health teaching facility at the city's university campus.
Turnbull spoke with fondness about his new deputy, referencing a classic movie to describe their new friendship.
"It's not 'Thelma and Louise,' it's Barnaby and Malcolm but we're on the road trip and we're having a great time," the PM said.
But hang on, 'Thelma and Louise' -- the 1991 film starring Susan Sarandon and Geena Davis -- is not quite the perfect template for the leader and deputy leader of the country. For one, the film's duo are on the run from the law after killing a man. Then they get their money stolen by a young Brad Pitt. Then they threaten a police officer and lock him in the trunk of a car. Then....
On Twitter, everyone was making the same joke.
We've found at least one way that the PM and his deputy are like Thelma and Louise; Malcolm DOES love a good selfie.
BUT here's the big question: