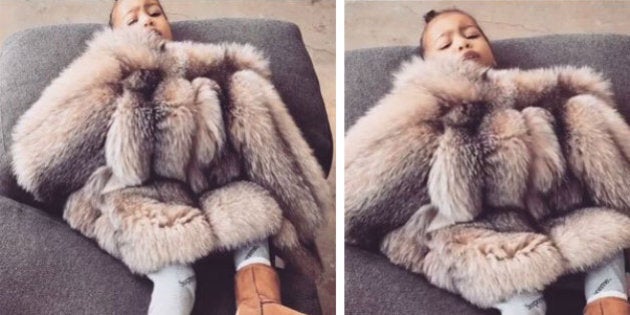 While she might be the spitting image of Kim and Kanye combined, a video uploaded to Instagram on Tuesday morning proved North West does not share the same love for being photographed as her parents.
Just a few hours before Kimye were due to hit the Grammys red carpet, Kardashian West uploaded a video to her Instagram account showing her two-and-a-half year old daughter strongly disapproving of a photo.
"No, no picture!" North said, looking oh so cosy in a fur coat and ugg boots while reclining.
"Why?" Kardashian West asks before the toddler is seen falling off her "bed".
North West's aunty, Kendall Jenner is then seen in the background proclaiming "that was amazing."
Of course, who could blame her for wanting some peace and quiet. After all, she has been swarmed by the paparazzi her entire life.
In other pre-Grammy news, Taylor Swift posted a video to Twitter this morning celebrating with bestie Selena Gomez after receiving news she will be taking two awards home today; Best Pop Vocal album for "1989" and one for Best Music Video for "Bad Blood" featuring Kendrick Lamar and the rest of her squad.
The video shows Swift and Gomez totally freaking out over the news while in the midst of getting ready for the awards where they will be each other's dates.
"Bad Blood just won a Grammy for Best Music Video and we are not ok.@selenagomez," Swift wrote.
The 58th Grammy Awards will be broadcast from midday (AEDT) and there are four Australian acts nominated including Courtney Barnett for Best New Artist as well as Tame Impala, Keith Urban and Hiatus Kaiyote.