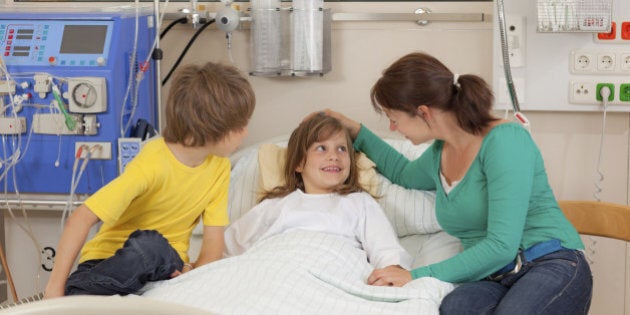 Each year, 1,600 Australians are on a waiting list for an organ transplant.
Of that number, 50 will die waiting.
The greatest demand is kidney transplants -- and it's not just older Australians but children, too. Lung, liver and heart transplants closely follow as the most in demand.
"Not only would they no longer need dialysis but the way they feel and their level of health and vitality is much better plus their life expectancy increases as well," Opdam said.
Australia's donation rates did grow in 2015, with 1,241 lives saved and transformed through the generosity of 435 deceased organ donors and their families. However, there is much more to be achieved to continue to improve access to transplantation in Australia.
"Many Australians are supporters of donation and are willing to donate. However, only 32 percent of the adult population have registered," Opdam said.
"People have a mindset whereby they think somebody else can be a donor -- or that donation is commonplace -- but that's not the case," Opdam said.
The Coalition Government announced earlier this month that the registration process to become a donor will become a lot easier by May, with a one-step online form.
However, Opdam said telling your loved ones of your wishes to donate is just as important.
"Ultimately, the family are always spoken with because they are there at the time of the death and they are part of the whole process by providing vital health information about their loved one," Opdam said.
"If the person is registered and the family know of their loved one's wishes, then it's very unusual for families not to agree to donation. A main reason families decline donation is because they simply don't know what their loved one would have wanted," Opdam said.
The other limitation is that very few people die in the specific circumstances required for organ donation and that only happens for 1 percent of people (about 900) who die in hospital each year.
"Their organs need to be in a condition whereby they are able to be safely transplanted and this generally means they need to die in the Intensive Care Unit or Emergency Department," Opdam said.
Living donors almost always donate to somebody they know, like a family member or friend.
"Very rarely there is a non-related altruistic living donor and they will donate to somebody on the waiting list that they don't know," Opdam said.
Opdam said we know that many would say yes to a transplant if they or a loved one needed it. However, one of the issues is that donation may not be something people think about because it is a subject related to death which can be uncomfortable.
"Sometimes people don't like talking about those sort of things -- but if we as a community want access to organs for ourselves and those we love, then we need to be willing to be donors as well," Opdam said.