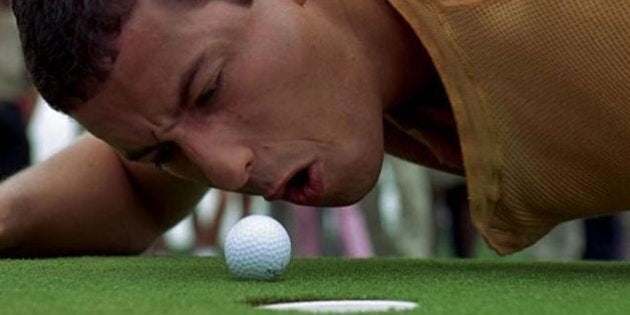 It all makes sense now. Everything is clear. One of the biggest secrets of the cult pisstake golf movie Happy Gilmore has been revealed.
By this reporter's reckoning, Happy Gilmore is the best worst movie ever made. It was so bad it was good. If the movie had been slightly less corny, slightly less gratuitously violent and sweary, or slightly less unbelievable, the whole thing would have collapsed like the TV broadcast scaffolding in the movie's final scene.
But Happy Gilmore worked. And it endures as a much-loved and perhaps even necessary antidote to golf's eternal stuffiness.
But this thing wasn't a total mulligan (that's golf talk for a free hit). As revealed this week on the mostly stuffy website pgatour.com, there was a fairly exhaustive process of script tweaks before the final product was ready.
Former pro golfer and broadcaster Mark Lye was hired as the official script consultant and kept telling Adam Sandler (who plays lead character Happy Gilmore) and his co-writer Tim Herlihy, "You gotta be crazy. You cannot do a movie like that."
Lye had issues with all sorts of stuff, including the ridiculous number of holes-in-one Happy Gilmore was hitting in early scripts. So he took the crew to a PGA event, showed them just how sober and serious a golf event is, and reeled some of the madness in.
Not much of the madness, but just enough. Lye also made one crucial change which helped the film win friends within the golf community. Sandler and Herlihy had planned for Gilmore to win the green jacket at the Masters in Augusta.
As any golf fan knows, this is the most prized piece of menswear at the most hallowed event in sport. Mark Lye urged caution. He said 'No, I don't think you'd better go there. We can get the same effect by doing our own fictitious event'."
This was wise, wise counsel. Happy Gilmore (20-year-old spoiler alert!) ends up winning the coveted Gold Jacket at the Tour Championship, not the Green Jacket at the Masters.
But you know what? There's this line in the movie that never really made much sense until you knew that. And now it makes all the sense in the world. The line was "gold jacket, green jacket. Who gives a s**t?" Seems like, despite the minor plot changes, Sandler never quite understood the reverence for the Masters blazer.
Happy Anniversary, Happy. Oh, and for those who have never seen Happy's winning shot at the "Tour Championship", here you go.