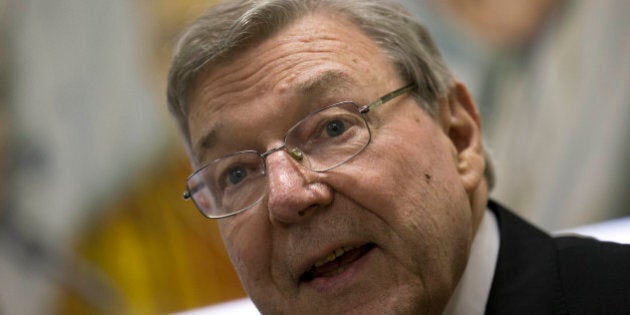 Cardinal George Pell is willing to meet with abuse survivors in Rome, following a crowdfunding campaign to send representatives to hear his testimony before the Royal Commission into Institutional Responses to Child Sexual Abuse.
Survivors of abuse at Catholic institutions in Ballarat are hoping to attend the hearings in person, following a crowd funding campaign that raised more than $170,000 in three days, surpassing its aim of $55,000 on its first day.
Pell is expected to give evidence as part of the Commission's inquires into how the Catholic Archdiocese of Melbourne and Catholic Church authorities in Ballarat responded to wide-spread abuse, and in early February it accepted medical evidence a long-haul flight posed risks to the Cardinal's health.
"Cardinal Pell has always helped victims, listened to them and considered himself their ally," Pell's statement said.
"As an archbishop for almost 20 years he has led from the front to put an end to coverups, top protect vulnerable people and to try and bring justice to victims.
"As Cardinal Pell has done after earlier hearings, he is prepared to meet with and listen to victims and express his ongoing support."
He said he was anxious to present all the facts without delay, and will cooperate with "whatever arrangements the Royal Commission determines".
Abuse survivor David Ridsdale said he and other survivors are willing to meet Pell, but he took issue with part of the statement.
"It's always good to get a response, but I think the disingenuous part is he is trying to put the onus on the Commission, when he knows the commission has no jurisdiction in Rome or the Vatican," he told the HuffPost Australia.
"I can talk on behalf of survivors, we'd be happy to meet him. I know there are some people in the media trying to say we're a vile political group.
"What they fail to say is we are for healing. Of course we are willing to meet George Pell, and we don't want him sacked. We want him to initiate change."
He told the Huffington Post Australia that Pell's statement was likely in response to the Minchin song and the public out pouring over the past three days.
The Go Fund Me campaign was started by The Project presenter Gorgi Coghlan and comedian Meshel Laurie on Tuesday with the aim of flying 15 representatives, including support staff, to Rome.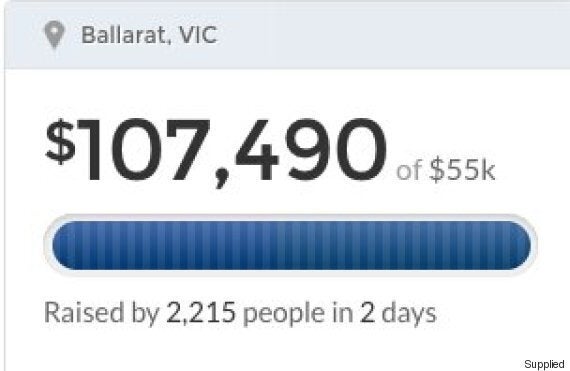 The amount raised on the site at 12pm on Wednesday, which included an anonymous donation of $10,000
"For all the survivors what's been amazing is, it has been a community response," he told HuffPost Australia.
"That means more to us than I think anyone could ever understand. After so long of feeling you haven't been listened to, it's a catch in your throat sort of moment."
It had been intended that if the survivors couldn't get to Rome, the money from the crowd funding campaign would be used to build a healing centre in Ballarat for survivors of abuse.
Ridsdale said the excess funds "opened up a new avenue" towards the setting up of the Ballarat District Clergy Abuse Survivors foundation, which he said will leave a legacy of healing in the city.
"It's something we have dreamt of, but haven't been able to achieve," he said.
"We've decided we're the experts after all these years, everybody else tells us what to do.
"Guess what, we know. We know what it's like and we know what we need now."
Another survivor, Stephen Woods, told the ABC on Wednesday he wanted Pell to give evidence in an "open" setting like the Australian embassy, where survivors can watch.
"There is nothing like a presence of people showing those who have had power for literally centuries, to show that the people will rise up and hold them accountable," Woods told the ABC.
"I think questions that need to be put to him are why did he cover up for so long and why were there so many files and why are there still files about Ballarat and about Australia taken to Rome and hidden?
"Why did he not ask questions when he was in power, when he was Archbishop of Melbourne and when he was Cardinal of Australia?"
Woods said he was stunned by the sentiments of people who have made donations.
Donations to the campaign surged after comedian and musician Tim Minchin released a song urging Pell to return to Australia to appear at the commission .
"They really care for us," Woods said of the donations.
"They really want us to feel loved. They really want us to go there and to just present a message. We are feeling good about it."
Pell first gave evidence before the Commission when he was resident in Sydney in March 2014, and again via video-link from Rome in August that year, when the church's "Melbourne Response" was examined.
"The evidence which he will be asked to give in the present hearings is more extensive than he has previously given in relation to the Melbourne Response," Commission Chair Justice Peter McClellan said in his decision to allow Pell to give evidence for the upcoming hearing.
Survivors of clerical abuse released a public statement on Monday, outlining their request to the Royal Commission to allow them to travel overseas to face Cardinal Pell.