Former women's champion Ronda Rousey was defeated by her competitor Holly Holm in the second round of their 193 title.
Appearing in an interview with U.S. talk show host Ellen Degeneres on February 16, she revealed the extent of her despair that led her to contemplate suicide in the aftermath of the fight.
"I was literally sitting there and thinking about killing myself and that exact second I'm like, 'I'm nothing.' What do I do any more? No one gives a s--t about me any more without this,'" she shared with DeGeneres.
Rousey has kept a low profile since her defeat. Yet even our strongest fighters are vulnerable to the mental strains of loss and failure.
Performance psychologist Dr Jeremy Adams told The Huffington Post Australia that struggles concerning mental health are varied and far-reaching among athletes -- and are particularly hidden.
"All athletes are going to have supposed wins and losses, and instead of treating that as a normal part of their career development, there is a huge amount of emphasis placed on the fact that they have failed and are no longer acceptable," he said.
"There is this expectation that athletes are superhuman and somehow don't have the same issues that the rest of us have, and that they can deal with the pressures in their lives better than anyone else."
Before the match: battling expectation
For Rousey, a high-profile female athlete in a male-dominated sporting industry, she "makes no excuses". She attributed her defeat partly to her gruelling schedule that saw her fighting her third title in nine months.
But the externalised pressures faced by such athletes move far beyond this, according to Dr Adams.
"We all place undue emphasis on expecting outcomes that aren't necessarily going to happen. For athletes, that can be magnified enormously because there is so much riding on an outcome based on a particular performance. And the outcome isn't necessarily under their control," he said.
"The pressure is huge, especially when we place that back on ourselves. Perhaps in her (Rousey's) case, a lot of that was internalised."
The fight: when things stop working
It began with a powerful kick to Rousey's head 59 seconds into the fight.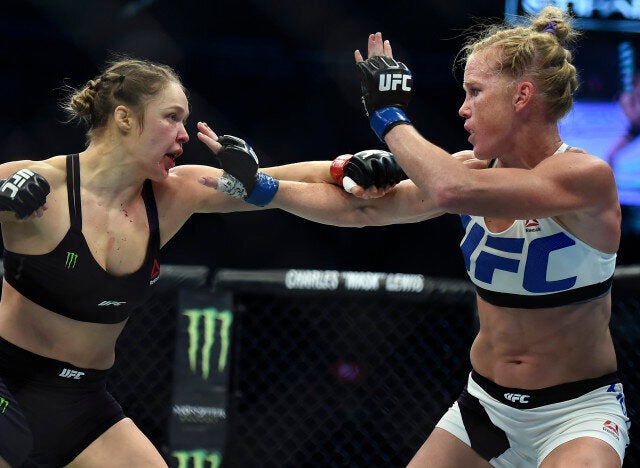 "I could see, but I had no perception...I was swinging blindly. I don't remember most of it," said Rousey.
"It's not about pain or things happening. Things stop working. My brain stopped working properly."
Dr Adams describes this reaction as a response to dwindling resources available to a person at a given time.
"In a fight context, if your mind is fixed on something that happened early on, those limited resources that you have are being used up by something that has already happened and you've got no control over," he said.
"One of the most important things to cultivate is the ability to stay present in the context of a difficult situation and not be distracted by thoughts and feelings about what is going on around you."
After the fight: coping with loss
Rousey's discussion with DeGeneres turned to the day after her defeat.
"Honestly, I was in the medical room and I was sitting in the corner and I was like, 'what am I any more if I am not this?'"
It is something we can all identify with and yet may not know how to handle. How can we cope with loss or failure when it comes to something that defines us?
For Dr Adams, it comes down to responding appropriately to loss.
"One of the first things to acknowledge is that we all have strong emotions around things that we are passionate about. After an upset that you have put a lot of emphasis on, it is okay to feel overwhelmed. That is a reasonable outcome," he said.
He said it is important to not place this loss on a pedestal.
"Now, let's focus on what matters and regain the passion that brought you there in the first place. What can you learn from this experience? Where do you want to go next?
"To become a better athlete, you have to acknowledge that things won't go the way you expect them to. How quickly you come back from that is a big deal in terms of how you are able to sustain performance."
"I do believe that all the best things in life come from the absolute worst things. What is the reason of all of this? What is my actual purpose? Maybe just winning all the time isn't what is best for everybody," she shared with DeGeneres.
"Everyone has their moment of picking themselves up from the floor, and I had gone through several of mine. But no one had actually seen me go through it. Maybe I had to be that example. Maybe that's what I am meant for."
And embracing her defeat was a personal victory.
"I believe that I am still undefeated, because being defeated is a choice. Everyone has losses in their life but I choose to be always undefeated."
Getting back in the arena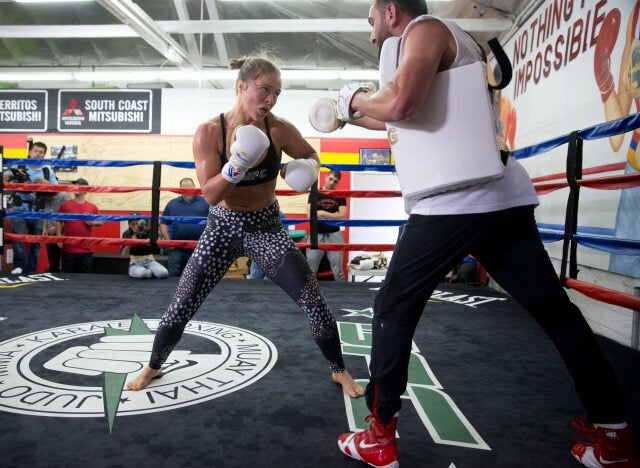 Rousey wants to come face to face again with Holm, who will defend her title against Miesha Tate on March 5.
According to Dr Adams, this is a vital step.
"The concept of getting back on the horse actually makes a whole lot of sense in order to ensure that you are not fostering an anxiety response to something that you were previously comfortable with," he said.
"Don't necessarily throw yourself back in at the same level, but get comfortable in that situation again."
If you need help in a crisis, call Lifeline on 13 11 14. For further information about depression contact beyondBlue on 1300224636 or talk to your GP, local health professional or someone you trust.