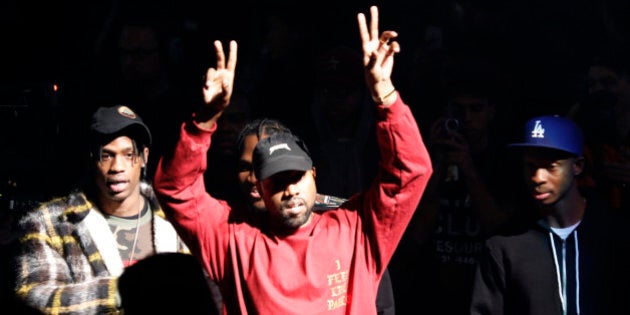 Digital media company Carat has apologised and taken responsibility for the Virgin Australia tweet which called Kanye West a "douche".
The tweet surfaced on social media on Tuesday evening and was swiftly deleted, but not before a few tweeters caught a glimpse.
The Australian airline told the rapper to "EAD you douche" in response to Yeezy claiming his album was "30 out of 10". This was after music site Pitchfork rated the album nine out of 10. EAD is slang for, er, "eat a d***".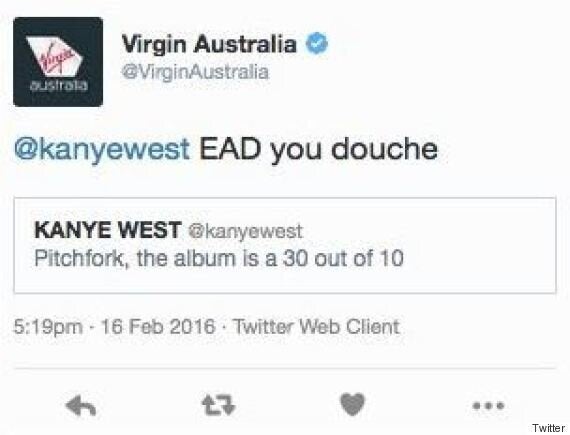 Carat's Sydney Managing Director, Dan Sinfield, told The Huffington Post Australia the tweet was posted by a junior staff member who is "completely distraught" as the company assesses the fate of their employment.
"At this stage we're just reviewing the situation and looking into the appropriate steps to take in consultation with Virgin," Sinfield told HuffPost Australia.
"The person came forward straight away.. it's a human error and a horrible situation."
The digital media company has worked with Virgin Australia for eight years and shares responsibility for the airline's social media accounts, looking after most advertising-related posts. When asked whether the company will continue working with Virgin Australia, Sinfield said "we absolutely hope so".
On Tuesday Virgin Australia was quick to apologise for slandering Yeezy, claiming Virgin employees were not responsible for the tweet and the matter was under investigation.