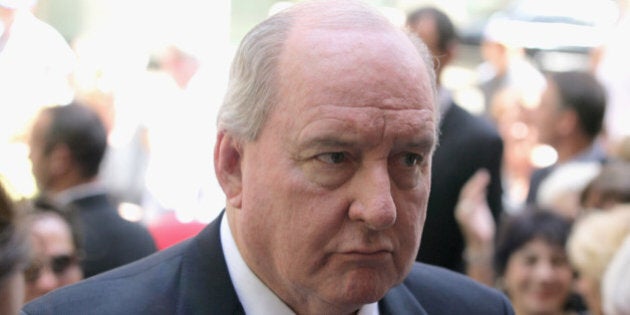 A petition urging Prime Minister Malcolm Turnbull to stand up against Alan Jones' 'Stolen Generation' comments will be taken to Parliament.
Greens Senator Rachel Siewert is tabling the petition in the Senate on Monday and told The Huffington Post Australia, "We need some leadership from the Prime Minister on this".
"Alan Jones' comments are atrocious, particularly after the Close the Gap report. These comments are not appropriate ever, but came at a time of particular grieving for the Aboriginal and Torres Strait Islander community so soon after the anniversary of the Apology and at a time when they are confronting news that Closing the Gap efforts are faltering," Siewert told HuffPost Australia.
"Calling for another Stolen Generation is hurtful and insulting to all those affected by the terrible practices and approach and represents an attitude not conducive to genuinely Closing the Gap in Australia."
On Monday Alan Jones said Australia needs Stolen Generations to remove children exposed to drug and alcohol abuse from their homes. The on-air comments came after a 2GB listener called the minute's silence and commemorations at the Indigenous All Stars rugby league match "a load of twaddle".
"When are they going to believe that half the stolen generation were taken for their own protection?" asked 2GB listener, Dell.
Jones replied: "Correct. To look after them. And we need Stolen Generations.
"There are a whole heap of kids going before the courts now, or their families, mums going before the courts, and dads who are on top of the world with drugs or alcohol, and suddenly they go back into an environment where children are brought up in those circumstances.
"Those children, for their own benefit, should be taken away."
On Tuesday, Jones stood by his comments explaining children, both Indigenous and Non-Indigenous, were taken away from families fuelled with drug and alcohol abuse and his reference to Australia needing 'Stolen Generations' was "metaphorically speaking".
2GB radio host Ray Hadley also defended Jones saying he is a generous benefactor to indigenous youth and "he's many things, Alan Jones, but he's not a racist".
The Change.org petition Siewert will bring to parliament on Monday, which has gained more than 20,000 signatures in two days, urges the Prime Minister to stand against Alan Jones' "racist" comments.
"Alan Jones referred to a second 'Stolen Generation', this is an Aboriginal issue," Siewert, who is Australian Greens spokesperson on Aboriginal and Torres Strait Islander issues, told HuffPost Australia.
"For Jones to try and defend himself in this manner shows a complete lack of understanding in regards to the struggle Aboriginal and Torres Strait Islander peoples face every day through systemic disadvantage.
"He appears to not understand that people are still suffering the effects of Stolen Generations, to call for another period of such actions is very offensive.
"At this stage we will be tabling the petition in the Senate on the first sitting day of Parliament next week. We do not want this issue to fall away without further calls for substantive action."