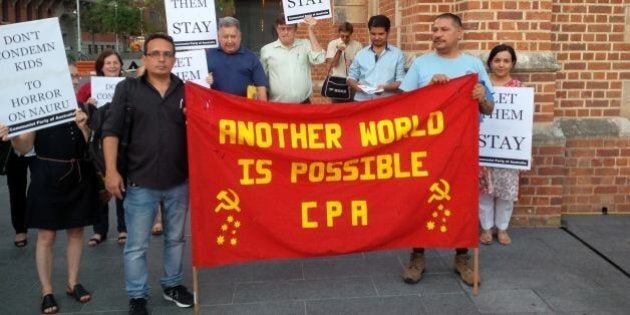 The Communist Party of Australia plans to run senate candidates in every state in the upcoming federal election, running on a platform to defend the rights of workers and oppose cuts to penalty rates and working conditions.
The CPA has been in existence since 1971, originally forming as the Socialist Party of Australia from breakaway members of the much older (original) Communist Party of Australia. The original Communist Party dissolved in 1991, and the Socialist Party changed its name to the Communist Party of Australia in 1996.
General secretary of the CPA, Bob Briton, told The Huffington Post Australia the party had around 1000 members around the country.
"The original party went on a reforming parliamentary road, and our party sees value in parliamentary work and starting an alliance of left and progressive forces for a new type of government, like in Venezuela and Chile," Briton said.
"We would like to see a step toward socialism, state power of the working people. We see parliament and elections and electioneering as part of that educative process, but the main change will be led by workers in their workplaces and communities."
Briton said the party has had limited interest in elections in recent times, but did field a candidate in South Australia in the 1998 and 2001 federal elections. Briton himself ran for the seat of Lee in 2010, polling 2.9 percent of the vote. The party's sole elected representative, Tony Oldfield, was part of the Auburn council in Sydney that was recently suspended and replaced with administrators.
"Compared to the big parties, [the party's polling numbers] are modest, but we feel it's a good way to put our politics before people, politics they don't get at other times," Briton said.
"Even if they say they're disinterested, they look at material in the media and so on, so we'd like to put a socialist alternative before them, about changing the system and not just having Labor or Liberal."
He said the CPA plans to field senate candidates in all states around the country at the federal election later this year, saying he was buoyed by the successes of independent and minor party senators like Jacqui Lambie, Ricky Muir, Glenn Lazarus and Nick Xenophon who had been elected without the backing of major parties.
"They give us confidence. They're a mixed bag of progressive and reactionary people, but I think a senate with the voice like the CPA would be very good for public debate and discussion. There is this consensus about neoliberal economic policy that needs challenging," Briton claimed.
He said the party would campaign on "worker's rights, attacks on trade unions" with their top issue the fight against calls to reform penalty rates. The party's website also outlines policies including, "Equal rights for women, migrants and refugees; Aboriginal land and human rights; Improved public health, public education, public housing and public transport; Laws to force polluters to stop killing our planet; Higher pensions and improved welfare services; Peace and a cut to military spending to pay for socially needed projects".
"I'm not delusional about these things, but I think capitalism is having an image problem. Young people are not being born into the great Australian dream of affordable housing and so on," Briton said.
"When you talk about socialism, and our support for education, housing, work, childcare and so on, young people are really receptive. There is that history around communism, and a lot of it has been misrepresented."
The "history" he alludes to is, of course, the 1950s-era scare campaigns around communism and socialism, "reds under the bed" and a "red tide" that Australia feared would sweep the country from Asia. He said such negative perceptions of socialism and communism were rare in today's society.
"Because that was so long ago, it is less common, but there is that problem of perception and image in a segment of the population. However, I think if you can get into a nice long conversation with a younger person, they are quite well disposed to what we're on about," Briton said.
"We're the Communist Party of Australia, not of some other country. On a lot of issues through history, we've been on the right side -- aboriginal issues, trade union, workers' rights, positions on wars. The negative opinions are diminishing."
"The Greens political party candidate who has been chosen in this electorate has spent more time in the international socialist organisation than he has in the Greens political party, and if if he was fair dinkum he'd run as an international socialist and see how many votes he got there," Albanese said.
Briton said he was disappointed to hear such comments from a politician supposedly on the same left flank of the political spectrum.
"He wants to smear and disparage the idea of socialism. In the 1970s and 80s, we were a united front in the trade unions; the Communist Party and Labor Party worked well together. That type of Cold War language, the sledging, is not good."
As for the next step? Briton says the CPA's members -- "hardly old hands at this sort of stuff," he laughed -- are drawing up plans.
"We're planning, sketching, brain storming, having meetings about how we're going to get materials, presentation, budgets... we'll give it a good run," he said.