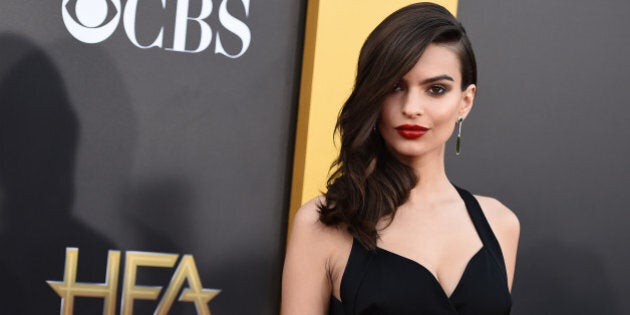 You've most likely seen her in Robin Thicke's music video for "Blurred Lines" or at least recognise her from the 2014 film "Gone Girl" alongside Ben Affleck -- but now you're about to get to know Emily Ratajkowski a little better -- and for all the right reasons.
The 24-year-old was subjected to a ridiculous amount of hate for well, being a woman and having a political opinion.
The abuse focused mainly on telling her to shut up and "look pretty" as well as many references to her breasts which don't need to be repeated.
Thankfully (and quite timely, in fact) Ratajkowski penned this personal essay which perfectly summed up society's problem with female sexuality -- and how this is deeply rooted in us all -- even if we don't realise it.
"When I was 13, a close family member came to see my performance in a play. I remember feeling pretty -- tanned, wearing lip gloss and a red button-up ribbed top over my bra and a mod-style zip-up miniskirt from Forever 21. Our family member sobbed to my mother and me at dinner after; she was worried for me, worried about the looks I got from men, because I was wearing what I was wearing. I needed to protect myself, she explained. The same year, my parents hosted a dinner party where I spoke freely, keeping up with the mature humor and storytelling, an only child comfortable sharing my conversation with adults. On my way to the bathroom, before dessert, an older family friend took me aside, separate from the rest of the party: "You need to hide out, a girl like you, keep a low profile." Whatever that meant. I truly believe he felt he was being protective, helpful even."
Ratajkowski goes on to talk about her developing sexuality and how that concern and pressure to cover up from her childhood is still very present in her mind today.
"I see my naked body in the mirrors of all the places I've lived, privately dressing, going through my morning routine. I get ready for my day as one of my many roles in life -- student, model, actress, friend, girlfriend, daughter, businesswoman. I look at my reflection and meet my own eyes. I hear the voices reminding me not to send the wrong message. And what is that message exactly? The implication is that to be sexual is to be trashy because being sexy means playing into men's desires. To me, 'sexy' is a kind of beauty, a kind of self-expression, one that is to be celebrated, one that is wonderfully female. Why does the implication have to be that sex is a thing men get to take from women and women give up?"
Ratajkowski explains how she thinks of women in workplaces worrying about how their sexuality might accidentally offend, excite, or create envy.
"I think of mothers trying to explain to their daughters that while it wasn't their fault, they should cover up next time. I refuse to live in this world of shame and silent apologies. Life cannot be dictated by the perceptions of others, and I wish the world had made it clear to me that people's reactions to my sexuality were not my problems, they were theirs. Honoring our sexuality as women is a messy, messy business, but if we don't try, what do we become?"