Red Bull
Corbin Harris is one of Australia's finest skateboarders but there's so much more to him than that.
Corbin will be MC'ing a major event called Bowl-A-Rama at Sydney's Bondi Beach this weekend. We thought we'd catch up with him ahead of the event to talk about skating, homewares and good manners. As you do.
HuffPost Australia: Hi Corbin. We start by asking every sportsperson this. Who would win a fight between a kangaroo and an emu?
Corbin: Ummmmmm. Oh, that's a tough one. The emu has such a long neck and that bite is tough. Maybe the emu because if he got the kangaroo he would just rip flesh straight away.
HuffPost Australia: Ouch, have you had a bad emu experience or something?
Corbin: I've nearly been bitten by one, yeah.
HuffPost Australia: OK how about this one. Who would win a game of chess between a surfer and a skateboarder?
Corbin: A skateboarder. They're always a lot dorkier. Surfers are too busy sitting on the beach and getting all the chicks.
HuffPost Australia: What? We thought skateboarders were cool too.
Corbin: I know, everyone does think that.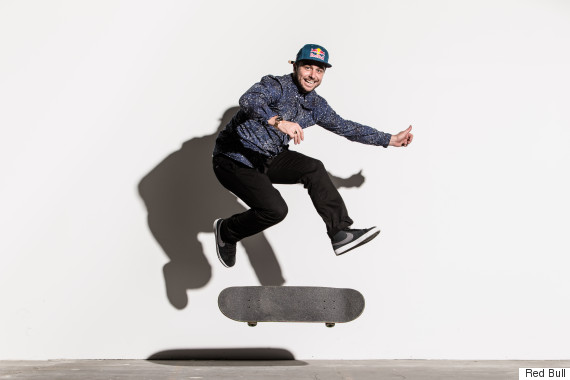 Proof that skateboarders really are shadowy figures
HuffPost Australia: But you're not?
Corbin: My kind of cool is an educated, smart person who knows what they're doing and has good morals.
HuffPost Australia: And there are plenty of skaters like that?
Corbin: There are a bunch of skateboarders I think really highly of. Obviously Tony Hawk is one of them. There are people I respect greatly in other sports too. [Aussie Formula One driver] Daniel Riccardo is a friend of mine and he's definitely someone who's cool and people should look up to.
HuffPost Australia: Sounds like the whole skating scene has changed.
Corbin: This is a reflection of me, definitely not skateboarding. There are still a lot of bad boys in skateboarding and don't get me wrong, I still think that's cool. I think the world needs a balance.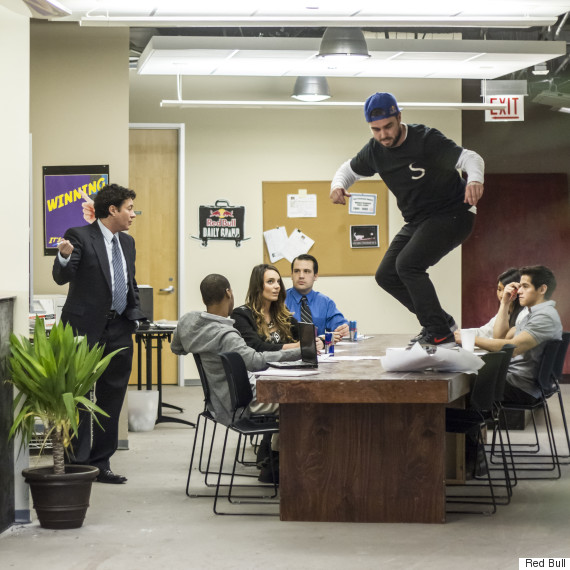 Corbin took it a little too literally when someone invited him to the board meeting.
HuffPost Australia: Hey we just realised we've been calling it skating while you're calling it skateboarding. Which one is right?
Corbin: I call it skateboarding. I probably say to a mate 'hey, do you want to go skating?' But I ususally call it skateboarding, especially when I'm talking to people in Australia. Australians are pretty uneducated on action sports. We're a team sports nation.
HuffPost Australia: Aha, but you're educating us through your broadcasting work.
Corbin: I hope so!
HuffPost Australia: Let's talk about this career of yours. You were, and of course are, a top skater. But you had no broadcasting experience when you started in the industry. We understand you're very much the self-made man.
Corbin: I've never had it easy, I did real estate property management, I was a labourer. Everything I did, I did myself, I cold-called Fox Sports myself [and ended up with two very succcessful shows on Fuel TV]. I did the same thing in America. I called ESPN and ended up hosting the X Games with [skateboarding legend] Tony Hawk. I've definitely worked for everything I have.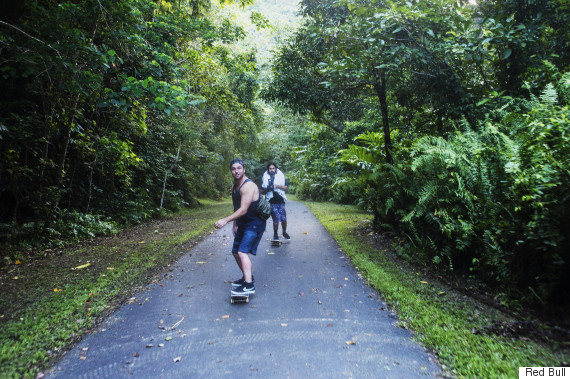 And when he's not working, he's screaming through the rainforest like a hippie on wheels.
HuffPost Australia: Good for you. What else are you into, Corbin?
Corbin: I'm working on a bedlinen and homewares line.
HuffPost Australia: You're working on a bedlinen and homewares line.
Corbin: I am. I'm into fashion and homewares.
HuffPost Australia: OK one more time. You're into fashion and homewares and you're working on a bedlinen and homewares line. Does the bedlinen have skating motifs on it or something?
Corbin: No, nothing to do with skateboarding, mate.
HuffPost Australia: You're a bit of an all-rounder, aren't you.
Corbin: I love American politics, I love a lot of art. I love John Olsen and Brett Whitely.
HuffPost Australia: We promise never to stereotype skaters again.
Corbin: that's OK mate, it happens all the time.
HuffPost Australia: OK so tell us about the event that's on in Sydney this weekend which we believe is almost sold out. It's called Bowl-A-Rama, which is obviously a very cool name because it happens in a bowl. What else should we know?
Corbin: This weekend is the biggest skateboard contest in Australia. We're pulling all the best skateboarders from around the world, and there's a masters event featuring Tony Hawk and other pioneers of the sport. For older skate fans it'll be like seeing Led Zeppelin play. Bowl-A-Rama is a two day event for the first time this year which is a really cool thing. There are huge stands that go around the whole thing which hold about 4-5000 people.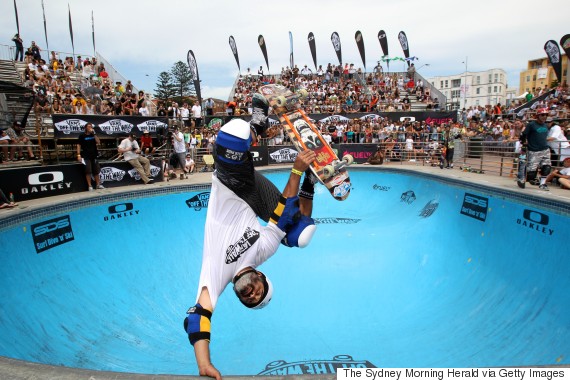 Old buggers in grey beards at a previous Bowl-A-Rama. Another skating myth shattered.
HuffPost Australia: Sounds big. So we guess the sport of skating is still humming along pretty nicely in 2016, eh?
Corbin: Yeah it's definitely a growing sport and it's likely to be included in the Tokyo 2020 Olympics.
HuffPost Australia: So I shouldn't be worried that my nine-year-old kid's really into skateboarding then.
Corbin: You know what Jerry Seinfeld said recently when he was talking to Chris Rock? He said 'don't worry about those skater kids. Every time I see them I know they're gonna be all right'. He said 'you hurt yourself and you learn that trick, now you got yourself a life lesson'.
HuffPost Australia: Love it. Good luck with Bowl-A-Rama this weekend, Corbin.
Corbin: Thanks Ant.