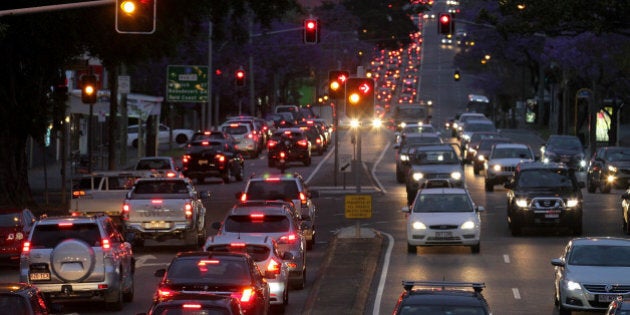 As Australia's population pushes beyond 24 million, Infrastructure Australia plans to keep cities moving with a "user-pays" system that would see people charged based on how often they drive and whether it's in peak hour.
The 15-year Australian Infrastructure Plan released Wednesday highlighted more than 90 priority projects across the country including high-speed rail connecting cities on the east coast and local projects like Canberra's plan for a tram as well as small tweaks like real-time road information systems and improved traffic light synchronisation.
The report said the current road system of using taxpayer dollars to fund road upgrades was "unfair".
"The system sees taxpayers subsidise all users, while those who use the network less are in effect paying a subsidy to support those who use it most," the report said.
"Users in the bush driving on poorly maintained roads ultimately pay for a share of capacity on capital city roads they do not use."
The other issue, the report outlined, was the fact that the roads were congested a few hours a day but with "excess capacity" most of the time.
"Employing available technology, a reformed charging framework for roads would see all existing taxes and fees removed and replaced with direct charging that reflects each user's own consumption of the network, including the location, time and distance of travel, and the individual characteristics of their vehicle such as weight and environmental impact."
Australian Automobile Association chief executive Michael Bradley supported the idea.
"Australian motorists currently pay close to $28 billion in taxes and charges every year, however the allocation of funding into road, rail, and public transport infrastructure needed across Australia remains ad hoc, unfair, and lacking in transparency," Bradley said in a statement.
"The AAA strongly supports Infrastructure Australia's call for a public inquiry into road funding reform and how we can replace current taxes with a fairer road user pricing mechanism."
Car festival Summernats general manager Russell Avis told The Huffington Post Australia the system could go either way.
"My question is how it would affect owning a second car," Avis said.
"For people who have two cars and only take the second one out a few times a year, it could save money. For taxi drivers or truck drivers, well they're already taxed a lot. If you've got a local truck delivery business and you don't travel far, maybe it's a big win, but maybe you'd pay rego, then you'd pay again for driving it.
"Somewhere along the line, someone has to pay."
The infrastructure plan also flagged a need for growth in smaller capitals like Darwin, Adelaide and Hobart to relieve larger cities as well as faster internet and commuting options for regional areas.
The report said that while "it is not government's role to direct people where to live", the right infrastructure could attract young professionals and skilled migrants away from increasingly populous major cities.
"Newcastle, Wollongong, Geelong, the Sunshine Coast and the Gold Coast are close to Sydney, Melbourne and
Brisbane," the report said.
"With the right infrastructure, such as high-speed broadband and high-frequency public transport connections, these cities could enable more Australians to live in a smaller city and access employment opportunities in one of our major metropolises."
Our largest cities Sydney, Melbourne, Brisbane and Perth, meanwhile, are flagged for high-density inner development as opposed to sprawling new suburbs on the outskirts of the city to reduce reliance on cars and commuting.
Between the four cities, the report estimated 500,000 to 700,000 additional dwellings needed to be built in the next 15 to 20 years.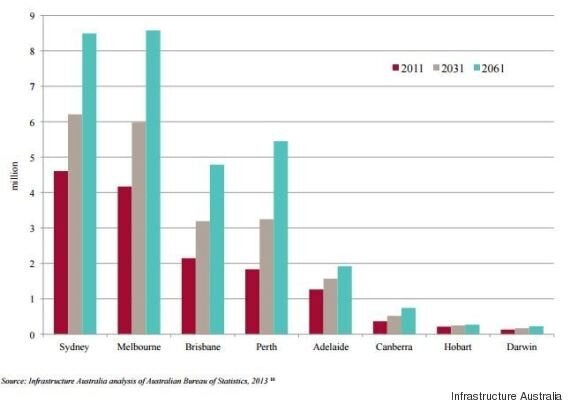 Chairman Mark Birrell said that while the plan outlined a system where drivers paid for the privilege, it was designed with the user in mind.
"In developing the plan, we have prioritised the user -- the commuter waiting for a train, the family paying their electricity bill and the business looking to capitalise on overseas markets," Birrell said in a statement.
"By completing the major reforms to infrastructure markets the average Australian household will be almost $3000 better off every year."
Without action, the cost of congestion on urban roads could rise to more than $50 billion each year by 2031.