MarkSwallow via Getty Images
Wine lovers, it's time to put on your rosé-coloured glasses, because this pink lady is around to stay.
Currently outselling white wine in France (and has been since 2008), it's a trend Peter Nixon, Business Manager of Fine Wine at Dan Murphy's Australia, expects to see replicated in Australia over the next decade.
"We've been speaking about rosé for a few years, and it's definitely now taking off. We're seeing not only an increase in sales, but also just in interest. People are talking about rosé and there is a genuine level of excitement," Nixon told The Huffington Post Australia.
"I'm going to predict within the next 10 years rosé will outsell white wine in Australia. I think more and more people will drink rosé, as it suits our lifestyle. For Australians, who like to drink wine as an aperitif, with or without food -- which is less common in Europe -- it's ideal."
That's not to say all rosé is the rage, with lighter, drier varieties proving immensely more popular than the darker, sweeter blends.
"There is a certain style which is really taking off, which is pale and fresh. That's where the action is. Sometimes they are a copper pink or a very pale pink, and are generally very dry or off-dry," Nixon said.
"They tend to be crisp and fresh, and can sometimes be slightly savoury as well. They go particularly well paired with antipasto and finger food or served as an aperitif."
In terms of what areas make delicious rosé, Nixon says you can look to France and Spain as well as locally to get a good drop.
"The French make a good rosé style all over France, in fact, they are the biggest producer of rosé in the world," Nixon said.
"A lot of them are coming from Provence, or the southern part of France. The Loire is also excellent, as is Bordeaux. There are good Spanish ones too, they seem to do a good job.
"We are actually starting to make some good rosé in Australia as well. The Yarra Valley does a really nice pinot noir style. In South Australia they make them out of grenache and over in Western Australia they make them out of pinot or cabernet. We're seeing some lovely varieties coming out of the Margaret River, actually."
If you're wondering how rosé gets its pale pink colour, it's not by mixing red and white grapes together, as is often assumed.
"Better rosé is made from the extraction from the grape skins," Nixon said. "Take a pinot noir grape, for example. The pulp of grape has no colour but the skin is reddish-purple. This is why champagne can be made from pinot noir grapes, but as no colour from skin is included, there is no pinkish tinge."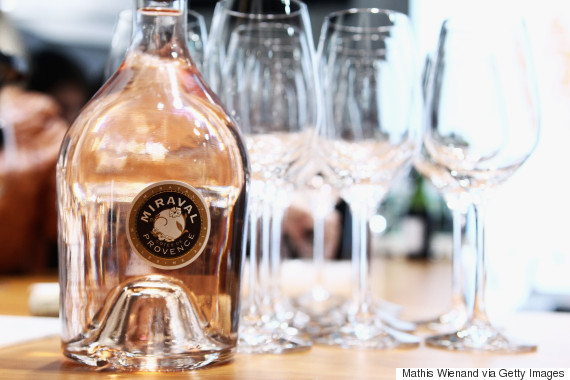 Angelina Jolie and Brad Pitt have their own French rosé, Mirival Provence.
When it comes to entertaining with rosé, you're in luck, because it works particularly well with antipasto and other savoury selections.
"Rosé has a slight edge of juicy sweetness but also a dry savoury finish, so it goes really well with salamis and things where you might also serve a chutney or a conserve," Nixon said.
"Pickled cherries are good, as is pâté. It works really well with a charcuterie board. Rosé actually has a really nice tannin structure which is why I think it's so food friendly.
"It has a good crisp acidity, so while things like olive oil and fats coat the mouth, the tannin gives some textural grips that works against those fats and the acidity helps to cut through. It's like when you add balsamic vinegar to your olive oil, it's the same concept."
Nixon also encourages people to have fun with the way they serve their wine, saying it's better if you don't get "too precious" with it.
"If you want to make a refreshing spritzer, just put some good quality mineral water in there, with ice. Serve it in a tumbler and chill the tumbler if you can. You can even add some fresh mint if you like," Nixon said.
"People are far too serious with their wines sometimes. Sauvingnon Blanc has been successful because it's such a delicious drink. You're not going to throw it in your cellar for 10 years. It's at its best when it's fresh and young."
Better yet, it's not too hard on the bank balance.
"It's not an expensive wine -- you can get really great rosé from $10, and the best examples would be around the $50 mark, Nixon said.
"It's actually really good value for money. It's not particularly expensive to make.It doesn't require oak treatment, it's more about just about preserving character of the fruit. As a winemaker that's what you're trying to do."
Need some help selecting which rosé to serve at your next dinner party? Check out page eight of the latest Dan Murphy's buyer guide here.
Or, if you like some celebrity with your tipple, check out Angelina Jolie and Brad Pitt's Miraval wine of Provence, which Nixon says is an "excellent example".
"They certainly don't trade off their name," Nixon said. "The wine itself is a very serious wine and definitely worth a try."