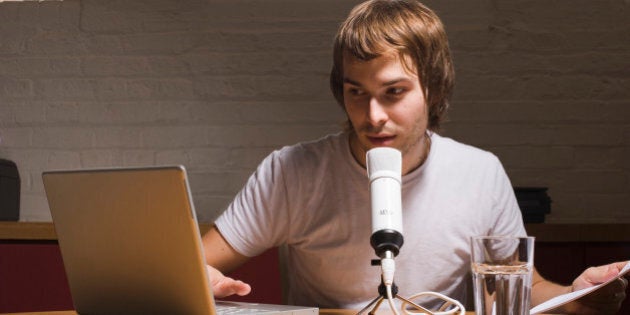 Think you've got what it takes to be the next Sarah Koenig? Good for you. But before you launch into the already-crowded podcast market, you might want to take into consideration some tricks and tools of the trade.
Because podcasts -- though they have been around for over a decade now -- have only in the past few years really hit their stride in terms of not only popularity but professionalism.
While some credit in the podcast surge is due in part to Koenig's 'Serial' (released in October 2014, the show quickly became the most popular podcast in the world and the fastest to reach five million downloads and streams in iTunes history), podcasts around the world are evolving into a mainstream form of information and entertainment.
In 2013, iTunes podcasts were available to customers in 155 countries and surpassed 1 billion podcast subscriptions. In 2014, there were over 285,000 podcasts available on iTunes with 9.2 million episodes in over 100 languages.
In short -- it's not enough to whack a microphone in front of your laptop and start talking.
Have you asked yourself how long your episodes will be? How regularly they will be delivered? Do you know how to interview or how your voice really sounds when you play it back?
If not, you might not be quite ready to hit the 'record' button just yet.
Luckily for you, The Huffington Post Australia had a chat with Sydney-based podcaster Richard Saunders of The Skeptic Zone (which has been up and running since 2008 and has since surpassed three million downloads on iTunes) about his mistakes, successes and ultimate podcast tips, the first of which is...
Don't make your podcast too long.
"When I began, I didn't really know what I was doing, so I made every show an hour and 20 minutes long," Saunders told HuffPost Australia. "I did that for quite a while.
"Looking back, it's easy to see that was a mistake. One hour and 20 minutes is too long. I wouldn't advise other people thinking of making their own podcasts to make them so lengthy.
"If you think about when people are listening to your podcast, it's when they're commuting or walking the dog or something like that.
"So in recent years, I've made the podcasts 45 minutes to approaching an hour, though normally they don't make it to the full hour. That's what I find is good length for my show and its audience."
Speaking of audience... you'd better commit to regular delivery.
"Continuity is very important," Saunders said. "At the same time my show started in 2008, four or five other skeptical podcasts also started in Australia. I think before long people realised the dedication you need to put out a show every single week.
"I've put out a show every week for 8 years and that can be tough. There are other things happening in life and other things going on, but you still need to dedicate the time to make sure the show goes out whenever you said it's going to go out.
"I think that's extremely important. Some other podcasts come out when they are ready or when they feel like it, and that's no way to build up an audience. One of the most important things is the audience must be able to rely on the show being there.
"My listeners, on a Monday morning when they are off to work or whatever, they know they can listen to my podcast."
Reality check: no one wants to listen to you waffle on.
"I think this is a mistake a lot of podcasters make. They want to do a podcast so they set up a microphone in a room with three friends and then they don't know what to say, so they keep on talking no matter what," Saunders said.
"Editing is really important. It's important to listen back. You don't want this ten minutes of waffle to go out.
"Even things like editing out the 'ums and ahs' can help. It's very time consuming but it helps.
"Of course, if you're just clowning around with your friends and you have 20 people listening per week and that makes you happy -- well that's great, who am I to say it isn't? But if you want to attract a larger audience, you might need to think about developing a script or adding some structure into your episodes."
It's going to be more time consuming than you think.
"I dedicate six hours a week solely to the production of the show and gathering information and getting the show out," Saunders told HuffPost Australia.
"You need to put in a certain amount of dedication to time and research and writing, and that will help to bring the audience.
"Also you need to spend some time listening back to yourself. It's important to practice your speaking and learn from your mistakes.
"Fortunately for me, I have years of public speaking and performing experience so I know how to talk on podcasts, but a lot of people don't and it's not their fault. It's something you can quite easily improve and learn on.
"You also need to consider how your podcast sounds to listeners. A big mistake a lot of people make when starting out is what we call microphone technique.
"They'll put a microphone in a room and sit on a couple of chairs and talk, and all you hear is echo.
"My biggest tip to any new podcasters is to record something as a test and listen to it as if you were a listener. Do you enjoy it? Can you hear everything clearly? What is the listener hearing?
"All of that is very important. I think about that in every show."
Listen to other podcasts.
"I absolutely recommend listening to other podcasts," Saunders said. "There's no crime in pinching ideas and formats. Listen to as many as you can and take note: 'Oh that worked well, that's a good idea.'
"At least model what you are doing on something that works well -- it's a good place to start.
"Of course it's fun to try new things, and if it works, then great! You should go for it."