JanelleLugge via Getty Images
Adder head and this is what you get. A siamese snake born in the small Victorian town of Wodonga.
Snake breeder John McNamara got the shock of his life when two snake heads came out of one egg from a clutch of 10 in early February.
"There would have been two yolks and they just haven't split properly … and I ended up with this," McNamara told The Border Mail.
The breeder refers to the snake as the Twin Destroyers, calling the heads Katana and Wakizashi -- which are short swords used by Japanese samurai.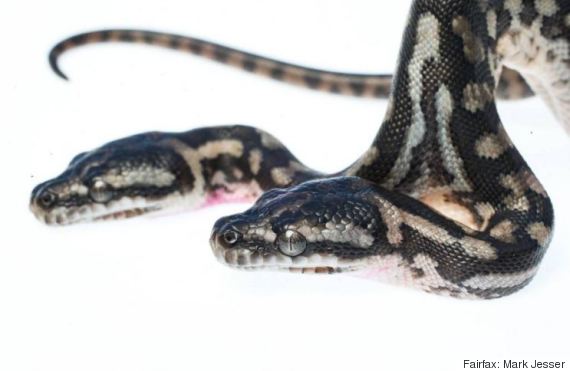 The Twin Destroyers: Katana and Wakizashi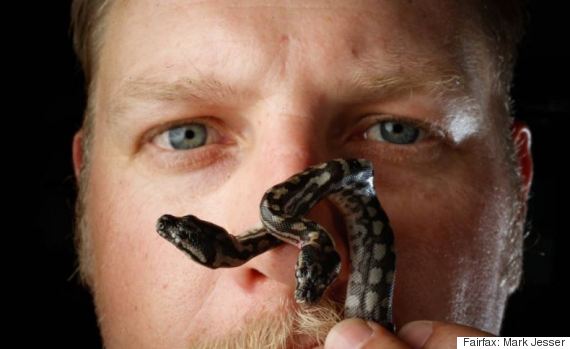 John McNamara with the Twin Destroyers
"The main reason I want to get a little bit of publicity if I can is to try and get a vet to help me out," McNamara said.
"Just to see which head is the dominant head and which goes down to the stomach and what organs and other things are joined or can cause complications."
Dr Derek Spielman who is a Lecturer in Veterinary Pathology at the University of Sydney's Faculty of Veterinary Science said the Twin Destroyer is likely to have a shared stomach but a split oesophagus. And the birth is not the first in Australia, with cases much more common in snakes and turtles than any other reptile.
"There's at least half a dozen records of double-headed snakes surviving in captivity. Some live for as long as 20 years," Dr Spielman told The Huffington Post Australia.
While there is a risk of Katana and Wakizashi fighting for food -- say if a rat was thrown in front of the two heads -- the fight wouldn't be fatal, said Dr Spielman, as pythons are not venomous.
"And in captivity they are less likely to fight or compete as one head can be fed while the other head is covered by the feeder," Dr Spielman told HuffPost Australia.
"It's pretty unlikely anyway.. the world they know is with that other head."