Fairfax media
Malcolm Turnbull's new government ministry has been sworn in, amid a swarm of hype from the PM.
Turnbull described his new squad as "a dynamic team which combines youth, new talent, experience, continuity, and a real sense of innovation and enterprise," a team that is "focused on Australia's future, focused on the policies that will encourage innovation and enterprise".
But exactly how much younger, more innovative and more enterprising is it, exactly?
Almost half a century younger, we figure.
The Huffington Post Australia crunched the numbers of the cabinet and outer ministry, not including those named assistant ministers or parliamentary secretaries. The reshuffle was spurred by the resignations of Warren Truss and Andrew Robb, as well as the recent sackings of Jamie Briggs, Mal Brough and Stuart Robert. Those five men counted for a whopping 864 months of experience in the parliament -- a whole 72 years in Parliament House.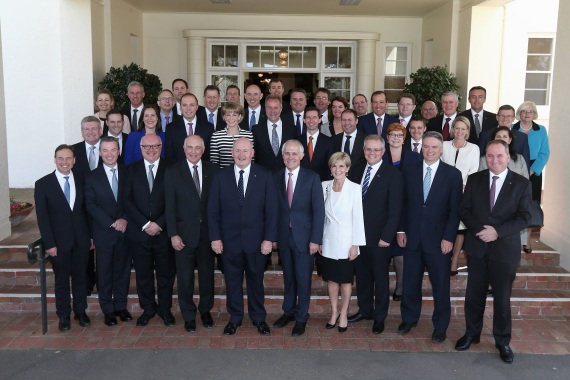 The first Turnbull ministry
Veteran MP Luke Hartsuyker (14 years' experience) was also dropped from his portfolio in the reshuffle, with ministerial promotions given to the likes of relatively fresh Darren Chester (seven years, eight months), Scott Ryan (seven years, seven months), Dan Tehan (five years, six months), Matthew Canavan (one year, seven months) and Alan Tudge (five years, six months), all of whom were formerly backbenchers or parliamentary secretaries.
Our calculations put the old Turnbull ministry at 4336 months of experience, or 361 years.
The new Turnbull ministry clocks in at 3764 months, or 313 years -- a difference of 572 months, or 47 years and eight months, younger than the previous leadership team.
Our calculations come as the Canberra Times revealed that 367 years of parliamentary experience would be leaving the chambera at the upcoming election. A total of 19 parliamentarians -- so far -- have announced plans to not contest the next election.