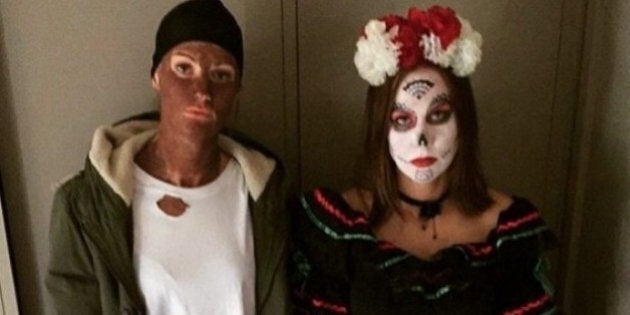 Well, it's going to be an interesting year as Australia's national women's basketball team, the Opals, count down to the Rio Olympics in civil war mode, as the blackface scandal continues to divide the team.
On the weekend, Opals player Alice Kunek posted an Instagram picture of herself wearing an ill-advised costume. Kunek was dressed as rapper Kanye West for the 'Silly Sunday' celebrations for the Melbourne Boomers, her WNBL team.
It didn't take long for people to get really, really angry. Leading the charge was Liz Cambage, a 24-year-old 203cm Australian basketballer and Opals player of part Nigerian descent.
Cambage's initial tweet, and several others, summarised the response of many who were deeply offended at Kunek's blackface makeup.
The history of blackface is often not understood by Australians. In America, it was a comedic device that lampooned and belittled black people. In contemporary western societies, any white person who wears black makeup is generally considered to be paying homage to this tradition.
But the lessons of history are lost on a new generation. Kunek protested her innocence on Twitter.
Her good intentions were accepted by her WNBL team, the Melbourne Boomers who issued a statement which in part read:
The Melbourne Boomers are aware of the photo and appearance of player Alice Kunek taken at the team's post-season celebrations on Sunday. The club is completely satisfied that Alice did not mean any malice whatsoever, she was dressed as her favourite singer and did not think of any offence that may be taken by her appearance. She is extremely apologetic and remorseful that her actions have been upsetting to some people and she quickly apologised publicly.

We are also aware of the hurt this has caused Elizabeth Cambage, a valuable past player with the Boomers. Both Alice and the club are apologetic and all steps are being made to advise Elizabeth that this was an error in judgement. As a family club the Boomers' number one priority is to assist, guide and support all its players; we are now doing so with Alice.

The Club understands the reaction to the photo and is working with Alice and Basketball Australia to ensure that the general public is aware of Alice's sincere remorse. We have personally spoken with Alice and she is understandably very upset, but she will learn from the incident and be a wiser person for it.

Alice is a valuable and popular role model for the Boomers, always giving of her time to everyone in the community and is held in the highest regard by all supporters. She is often the last to leave the stadium after a game, signing autographs and taking photos with fans for up to an hour after the final buzzer.
Meanwhile, things got messier when a bunch of people started harassing Cambage on Twitter. Then former swimmer Steph Rice, who once tweeted a really nasty homophobic thing about South African rugby players, got in on the act too.
Rice, like others, made the mistake of thinking that wearing a mask of a black person's face is the same as putting on face paint. It's not, for the reasons mentioned above.
Meanwhile, Australia's best-known female basketballer, Lauren Jackson, told Fairfax Media that she understood Kunek intended no offense.
"It was a judgement call that in hindsight she wouldn't do again.
"I feel for Alice, as I know how devastated she is right now and as a teammate of hers in the past I know it's a really unfortunate situation and she will learn from this."