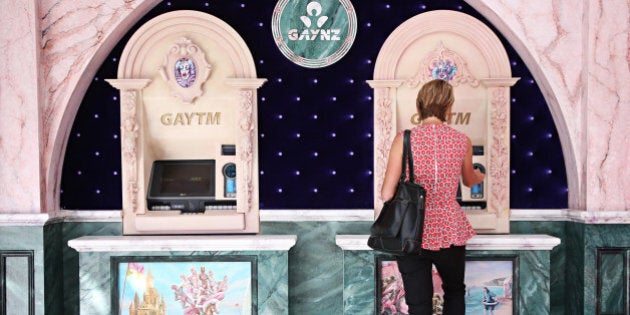 10 years ago ANZ did something very un-bank like when they revealed its GAYTMs -- bright and glittery cash machines around Sydney's Oxford Street and Darlinghurst area -- in support of the Gay and Lesbian Mardi Gras.
In the years that followed, the public have been excited to see each year's offering as the machines have become more flamboyant and intricate.
On Monday ANZ revealed that in honour of the 10th anniversary of the bank's Sydney Gay and Lesbian Mardi Gras sponsorship, ANZ will become GAYNZ, with the bank's Oxford Street branch at the heart of the Mardi Gras parade route being rebranded as a GAYNZ branch.
Completely transformed both inside and out, the branch appears more like an art gallery or luxury hotel than a modern day bank outlet. The fit out is a baroque-inspired celebration of LGBTI culture and features two new GAYTMs, ornate walls, a marbled floor and 16 unique, hand-painted murals inspired by the LGBTI community.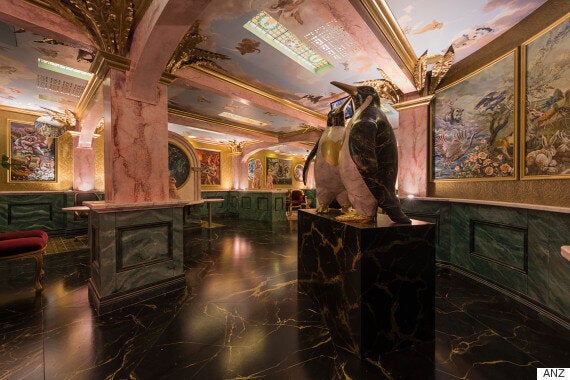 The interior of the branch.
"Diversity, inclusion and respect is an important part of what we do at ANZ so we are particularly proud of our partnership with Mardi Gras which started because our staff passionately believed in supporting the cause 10 years ago," Chair of ANZ's Australia Division Diversity Council Mark Hand said.
"Over the past few years we have had an incredible response to our GAYTMs, so it was only natural to take things to a new level to celebrate the milestone. GAYNZ is often used to describe us at Mardi Gras and we thought transforming the Oxford Street branch and naming it GAYNZ was a fitting way to demonstrate our continued support for the LGBTI community."
This year ANZ will have more people than ever participating in the Mardi Gras Parade with 230 staff, family and friends set to march.
Four GAYTMs have also been returned to the George Street and Pitt Street branches. ATM operator fees for non-ANZ cardholders from GAYTMs will be donated to Twenty10 -- a not-for-profit organisation working with and supporting people of diverse genders, sexes and sexualities, their families and communities.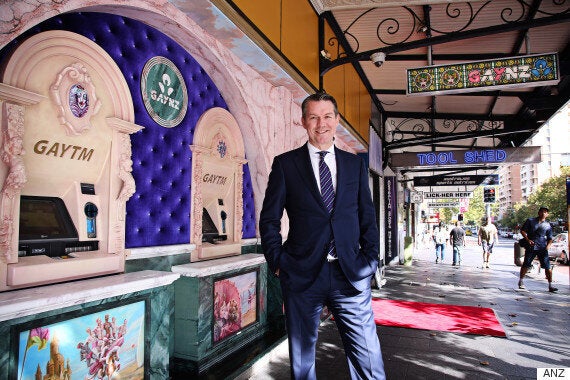 Chair of ANZ's Australia Division Diversity Council, Mark Hand.