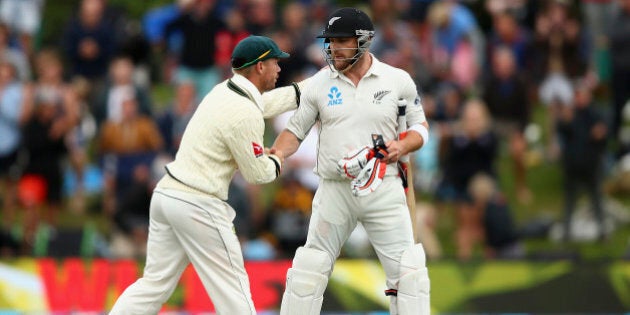 Dave Warner, take a bow. You sir, are everybody's favourite reformed bad boy and former part-time pub pugilist. Warner took a screamer of a catch at mid wicket to dismiss Brendon McCullum on day three of the second Test between Australia and New Zealand at Christchurch. But it's what happened next that reminded you why New Davey is so much better than Old Davey.
Warner and Australian captain Steve Smith were the only two players who went out of their way to congratulate the departing McCullum after the New Zealand skipper's 176th and last Test innings.
There was no shortage of irony in the way McCullum got out. The previous ball, he flat-batted a low six just forward of square leg. The next ball he tried something similar and was caught by Warner, who flung himself to his right, rolled over in mid air and emerged with ball firmly clasped in hand.
McCullum finishes with 6453 runs at an average of 38.64. If his average is six or seven runs below the 45-plus you need to be regarded as a batting great, he can be excused because he was so darned entertaining. McCullum hit 107 sixes over the course of his 101 Tests, which is a world record. And of course, there was that century on the weekend when he pulverised his first 100 runs from 54 balls, obliterating the old Viv Richards and Misbah-ul-Haq record. You can see the full list of every Brendon McCullum Test innings here.
Earlier today, Australia reached 505, giving them a 135 run lead. A larger lead had looked likely until unheralded Kiwi paceman Neil Wagner mopped up the tail. Adam Voges fell 37 runs short of his average with a mediocre -- by his standards -- score of 60 and nobody else did much at the back end of the innings.
Even Mitchell Marsh scored less than his meagre average, a feat which is soon going to become statistically impossible. But don't panic if you're a big fan. They'll pick him for another 20 matches because he's stolen all the cricket bats in Australia and won't give one to anyone else. Well, that's the only logical reason we can think of.
At stumps, New Zealand was 4 for 121, still trailing by 14 runs. New Zealand's best batsman Kane Williamson is 45 not out. The 25-year-old will almost certainly be named the next Kiwi skipper, and If he can play a captain's knock a match ahead of time, the Kiwis may yet set Australia a challenging total. The scorecard is here.