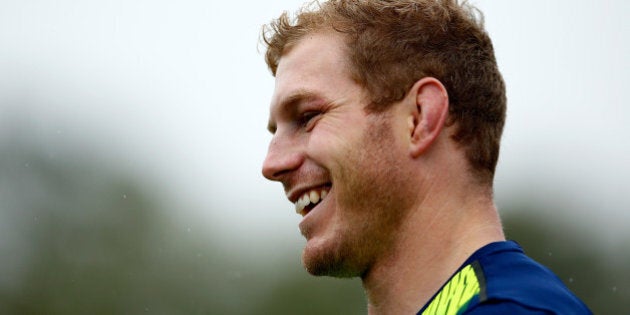 Rugby Union star David Pocock was left with an eating disorder and his brother hospitalised with debilitating anxiety after the family fled from war-torn Zimbabwe during Pocock's childhood.
Speaking on Australian Story on Monday night, the Wallabies player and his family, who returned to his old home with the program, revisited the trauma of fleeing the family's farm in Zimbabwe in the 2000s, after war veterans violently reclaimed land from white farmers during the Robert Mugabe era.
"I remember being pretty scared, mostly just at night. As a kid, all the different scenarios are going through your mind. I remember one time there was a mob of people that we could hear in the area, sort of coming along one of the farm roads from a neighbour's farm," Pocock said on the program.
Pocock's mother, Jane, fled into the city that night with her three sons while Pocock's father, Andy, stayed to protect the farm.
"It was very traumatic for the boys... we ended up having to stay the night in town and we couldn't contact Andy. We didn't know if he'd been killed," Jane said.
"The next day the farm was peaceful and it was quiet and there was no-one around, other than the workers. And it was life as normal. And, you know, I can just remember thinking, 'Did that really happen?' I think the final straw for us was when neighbours of ours who Andy had grown up with were ambushed at their gate."
This neighbouring farmer was killed, and his son shot nine times. The Pococks soon left Zimbabwe for Australia.
"And I guess looking back on it now, I was a, you know, a privileged white kid. I think guilt's probably an appropriate feeling when you grow up in a privileged position, just because you've been born to certain parents," Pocock said on the program.
"There were a lot of staff working on the farm and they were a huge part of our lives."
Pocock's younger brother, Steve, suffered from anxiety which eventually saw him hospitalised for six-months and diagnosed with post-traumatic stress disorder. David "threw himself into sport" according to his family.
"That first summer holiday I would go down to the library and just hire out books and do training sessions from them," said Pocock.
"And I had this weird thing that, in my head, I had to do 450 crunches a night or else I was going to get fat. Or, like, if I didn't do it, I was mentally weak.
"I knew I had some trauma stuff in there or some experiences that I needed to actually tell people about and talk through. But in my mind it was: "Pff, there's people way worse off. I've got this opportunity. I've got this sport, and there's other things that I can control."
"'I could justify it, because I wanted to play rugby professionally, I wanted to play for the Wallabies."
With the looming expiration of his current contract, Pocock hasn't expressed that same desire to keep playing the game for a living, hinting at spending a year studying in Britain.
The rugby union player is studying a Bachelor of Ecological Agricultural Systems while his partner, Emma, has finished a Masters in International Development and hinted on the program that the couple could return to Zimbabwe permanently.
"We've definitely talked about living in Zimbabwe for a time," said Emma on the program.
"Dave just has such a deep sense of responsibility to make a positive contribution there."
Part 2 of David Pocock's Australian Story will air on the ABC on Monday, February 29.