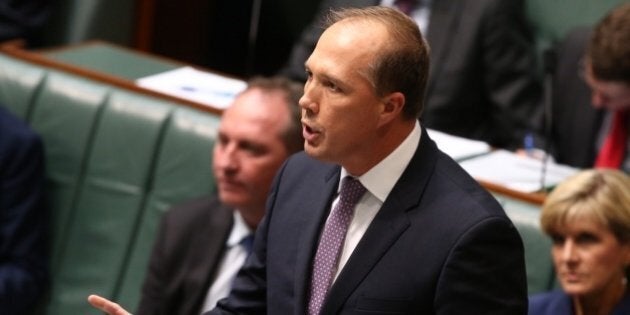 CANBERRA -- Immigration Minister Peter Dutton survived two potentially embarrassing motions against him in parliament on Monday, as the fallout from the Baby Asha asylum seeker case stretches on.
During Question Time on Monday afternoon, Greens MP Adam Bandt posed a question to Prime Minister Malcolm Turnbull, which was answered by Dutton, about whether he agreed that immigration detention harmed children.
During Dutton's answer -- where he said that "I am not going to preside over a situation where we have people self-harming to come to hospitals in this country because they believe that is the route out into the Australian community for Australian citizenship" -- Bandt was seen to yell angrily in the direction of Dutton. Soon after, independent MP Andrew Wilkie attempted to pose a point, but was blocked by the Speaker.
As soon as question time ended, Wilkie then rose to move a motion against Dutton, asking he be censured "for implying that the Baby Asha was deliberately harmed as a means of facilitating asylum seeker access to Australia".
"What the Minister said during question time today I found to be one of the ugliest things I have heard in this place in my five and a half years serving here," Wilkie said.
"I find that absolutely appalling."
Bandt spoke in support of Wilkie's motion.
"The Minister has implied that babies and children are in hospital or may end up in hospital as part of some deliberate co-ordinated attempt to blackmail this government. That is a disgusting statement," he railed.
Dutton responded that his earlier comments had been wrongly interpreted, calling it a "cooked-up situation."
The motion was eventually defeated as the Coalition and Labor voted it down, with shadow immigration minister Richard Marles claiming that Wilkie's accusations over Dutton's comments were incorrect.
Earlier, Labor MP Andrew Giles wasted little time on the first morning of the new sitting week, moving a motion in the House of Representatives that the government apologise to aid and development agency Save The Children after the group was expelled from Nauru in 2014. A report into the incident, released in heavily redacted form in January, found that the circumstances "did not warrant issuing the removal" of the staff, after claims workers had encouraged asylum seekers on Nauru to self harm.
Giles called on the government to apologise to Save the Children and its staff for the incident, and to acknowledge "the great work done by Save the Children Australia in aid, development and helping vulnerable children."
After debate in the house, including government MP Ewen Jones reflecting on time he spent with Save The Children workers in Papua New Guinea, the debate was adjourned to a later date.
Peter Dutton had survived two potentially embarrassing motions, but will probably be fielding similar motions for a while yet to come.