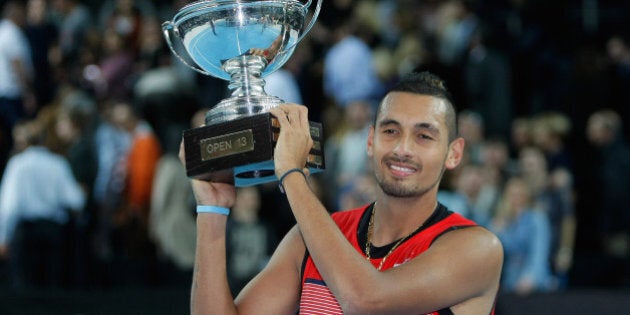 Maybe he goes better when no Australians are watching. Nick Kyrgios won his first ATP tournament overnight in Marseilles, France. He won a thing called The Open 13 by playing really well, and in particular, by serving like a god.
But it was his triumph on the mental side of things that made the difference. Even if you only caught glimpses of Kyrgios on highlights packages this week, you could see he looked crisp, positive and refreshingly free of wardrobe malfunctions and other distractions.
This was Kyrgios's first outing in a professional tournament since January, when he lost to Czech Tomas Berdych in round three of the Australian Open. Berdych is a relentless, metronomic robot of a player who thrives when his opponents make mistakes. Kyrgios made plenty in Melbourne. Out he went.
But when Kyrgios met Berdych in the semi finals at Marseilles, the Australian was the one playing clinical tennis. He won in straight sets. When Nick Kyrgios is angry at the world, he seems to motivate himself but also wear himself out. When he just goes out there and plays tennis, he looks unstoppable.
Here are some pretty remarkable stats. Kyrgios did not lose a single game on serve in this entire tournament. Nor did he lose a set. He served 72 aces throughout the tournament and became the first player aged under 21 to beat two top-ten ranked players in a week.
Yep, Nick Kyrgios is still only 20. Seems like he's been around for years but the bloke's still not old enough to buy a beer at Flushing Meadows. At least he's now got some silverware to drink the beer out of.
Kyrgios beat Maran Cilic in the Marseilles final. The imposing, almost two-metre Croatian is ranked number nine in the world and is no easybeat. But Kyrgios dispensed with him. And then he did something the French crowd loved. It was the most obvious compliment in the world but why not?
"J'aime bien le fromage," he said. Which means I love cheese.
The Marseillais were enraptured. This was like telling a Melbourne crowd that they are the best fans in the world, and by inference, much better than Sydney.
The Canberran now moves to number 32 in the world. That means he's on track to grab a seeding at the next major, the French Open in May.
But his outbreak of awesomeness is all the more exciting and timely because Australia plays the US in a Davis Cup tie in Melbourne next week. The Lleyton Hewitt playing era is over. But Hewitt is the captain of the team now, and if he's looking for someone to show his trademark guts and fight, Kyrgios might just be the man.