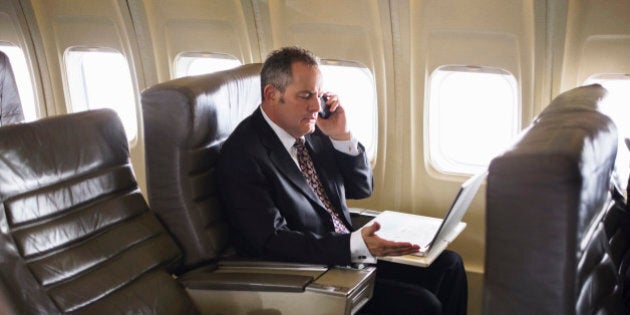 Aussie flyers will soon have access to free wi-fi fast enough to stream Netflix, but work-life balance experts warn it will take us another step closer to the kind of constant connectivity that leads to burnout.
Qantas CEO Alan Joyce announced the airline's partnership with global broadband service ViaSat on Tuesday, which harnesses the NBN network to provide fast internet service to passengers, connecting aircrafts with high-capacity KA-band satellite and ground stations.
"You won't be limited to checking your email or Facebook -- it's going to be about watching the football live, streaming your favourite TV show or movie, catching up on the latest YouTube videos, or shopping online," Joyce told reporters at a press conference on Tuesday.
While Joyce said the introduction of the NBN network has allowed the airline to introduce high-speed internet, Professor Albert Zamaya from Sydney University's Faculty of Engineering And IT said the technologies have been available for a long time.
"The service is long overdue.. there are a number of other companies which have been doing this for a while, in Europe, in the U.S."
"We've had the possibilities of making phone calls from flights. You can do that, you can pay for it. So it's not purely a technology-centric decision, but it's about whether it makes sense from a business point of view."
One Qantas Boeing 737 will be equipped for the first in-flight trial in late 2016 with the airline hoping to implement the wi-fi service across the entire domestic fleet by early 2017.
So, for the moment, flyers wanting to kick back with a glass of champagne while they binge-watch a television series can still do so without hearing their next-door neighbour chatting on the phone next to them.
But those feeling the pressure to stay connected may not welcome Qantas' announcement with open arms.
"High level business people and executives are notoriously bad at switching off," Sydney-based Life Coach Steph Chan told The Huffington Post Australia.
"All of this connectivity encourages them to work way beyond what is good for health, relationships and work-life balance.
"I think that business people in particular are going to have to be really disciplined about it, and learn to switch off if they're travelling after hours. In a way, it's going to provide too bigger temptation, and people won't be able to."
The new high speed wi-fi service will be limited to Qantas at the moment, with Joyce saying "we are looking at it across the Jetstar network as well".
"Jetstar is a pay-for-use service, and if it was introduced for Jetstar customers, they can get on a Jetstar aircraft for low airfares, but if they want this, they would be paying for it."
Virgin Australia is yet to announce on board high-speed internet for its passengers, with the airline currently providing standard wi-fi through in-flight entertainment which passengers can connect their devices to.
"We continue to work with leading technology providers to develop a solution that best suits the needs of our passengers. We'll provide more information when it is available," a Virgin Australia spokeswoman told The Huffington Post Australia.