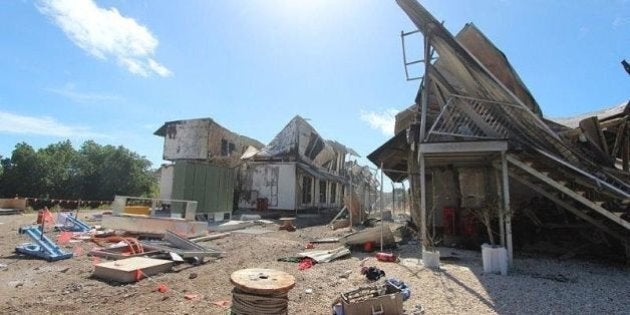 The nine Save the Children staff who were removed from Nauru over allegations of misconduct in October 2014 have lodged a compensation claim of almost $1 million against the Federal Government.
The welfare workers have also demanded a formal apology from the Government.
The workers were removed after being accused of political activism, coaching asylum seekers to self-harm and reporting false claims of abuse.
The program revealed the staff will claim for loss of income as well as damage to reputation, humiliation and consolation for suffering.
"The question of whether I'll get over what happened on Nauru is a very difficult one," said former Save the Children worker Poppy Browne on the program. She now works in Bali.
"For the last 10 years of my life, I have dedicated my life to working in the child protection field, in the social work field, and to have my name associated with allegations as serious as that, it broke my heart.
"While I can get over our removal, I can honestly say there's not a day that goes by where I don't think about the families and the children that I worked with."
In October, the nine staff members were removed from the detention centre after an internal investigation concluded they were encouraging asylum seekers to report fabricated stories of abuse, protest and self-harm.
While two independent reviews into the removal of staff cleared the welfare workers of the initial claims, the last review -- called the Christopher Doogan report -- released in January found the Department of Immigration and Border Protection (DIBP) acted within its legal rights, but could have taken a different course of action.
On Monday, a spokeswoman from the DIBP said the department is aiming to settle claims lodged by Save the Children staff "as quickly as possible".
"The Department continues to engage with Save the Children Australia and former staff, through their legal representatives," the spokeswoman said.
The nine workers have lodged an overall claim of between $750,000 and $900,000.
"If your employment is taken away by anyone then that is traumatic enough but if your employment is taken away from you in the dramatic way [it was for the Save the Children staff], without apparent cause, then plainly you're going to be pretty upset," the workers' lawyer, David Shaw, said on the program.
The workers' compensation claim and demand of apology is just the latest of immigration controversies surrounding the coalition's offshore processing policies.
On Monday morning Immigration Minister Peter Dutton announced Baby Asha -- one of the 267 asylum seekers to be sent back to Nauru following medical treatment in Australia -- and her family have been placed in community detention. Dutton would not confirm when the family and child would return to Nauru.
Immigration Minister Peter Dutton speaking in Question Time on Monday.