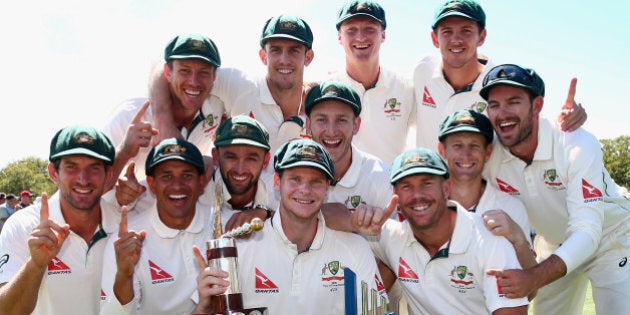 Australia has beaten New Zealand by seven wickets in the second and final Test in Christchurch. A glorious cover drive from Mr un-get-out-able Adam Voges did the trick, thus securing the official number one Test ranking which Australia last held in 2014.
But there's another title Australia has claimed. This one is an unofficial title and much less desirable. It's the mantle of world's best (or should that be worst?) sledgers.
Josh Hazlewood has led Australia's bowling attack this summer, and he also led the verbal attack on Day 4 with a colourful inquiry about the third umpire's eyesight which cost him 15 percent of his match fee. Yes, cricket has a swear jar.
Sledging aside, this summer has been marked by an improvement in all aspects of Australian cricket. Led by Steve Smith for his first full home summer in charge, the team has looked unified and content. Teams play well when they're happy, and so it has proved this summer. Against the West Indies and New Zealand, Australia won six of its eight Tests, with two drawn.
There have been a couple of real finds this summer. Joe Burns looks the goods as an opener. Adam Voges is red wine. Usman Khawaja is a natural at number three. Peter Nevill does little wrong. James Pattinson is back, and how. Josh Hazlewood is the first bloke who's been dubbed "the new McGrath" who looks like he could actually be the new McGrath. And Nathan Lyon is not quite the new Warney but he'll sure as hell do. You'd rather have a beer with him too.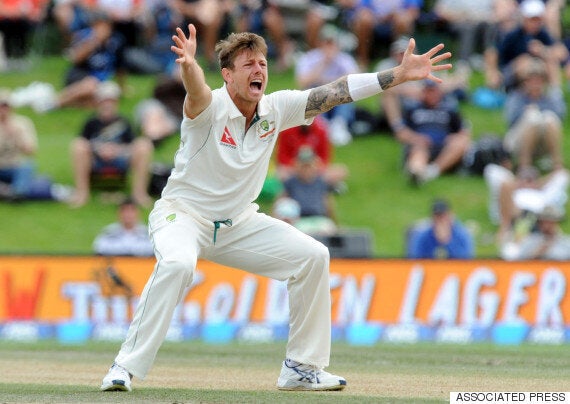 James Pattinson implores the Kiwis to pronounce their vowels properly.
And of course Steve Smith is leading brilliantly. As a batsman, Smith has modes, and modes are valuable. Retiring New Zealand skipper Brendon McCullum could bat at a million miles an hour, but Smith does what the occasion demands. Sometimes, he's all tennis serves and upside down drives and bats like he left the stove on. Other times he's as classical as Bradman.
Smith is a very relaxed kind of guy in person, not in the least worried about how he projects himself as a certain previous captain was. He's aggressive without being silly about it, and makes gutsy decisions when required. Don't forget he sent the Kiwis in twice in this series. Sure, they were bowler-friendly wickets but it was still a risk.
But Smith has assuredness about him these days. He looks a real leader out there on the field. Blokes want to be his best mate but also to impress him. He's not perfect. Both he and Josh Hazlewood were feeling a little niggly on Tuesday.
Tuesday was just one of those days. Australia could have finished the show off quickly if a decision or two had gone their way. But they didn't. Then they started dropping catches. Then a few more decisions went against them. Then the snarkiness kicked in which resulted in Josh Hazlewood getting fined. And for a moment there, it looked like the ugly Aussie team of old. Jason Holder -- the West Indian skipper on the wrong end of this summer's 2-0 series loss -- certainly thought so.
The truth, as ever, is probably somewhere in the middle. The Australians have still got mouths but so does everybody else.
Indian skipper Virat Kohli ran red-hot in the recent One Day contests against Australia, for reasons which weren't always clear.
Overall, this Aussie team remains likeable. "You have been very fine ambassadors for cricket," said New Zealand's greatest ever cricketer Sir Richard Hadlee, in his post-match address directed at the Trans-Tasman series victors. It was pre-written corporate gumpf but it didn't sound totally wrong.
Cricket wise, this is now an increasingly settled Australian team. Team stability so often helps generate a winning culture. When blokes aren't looking over their backs, they tend to perform their best. The only real question mark is over Mitchell Marsh's place as an all-rounder. Surely it's time to try James Faulkner. Or perhaps even Glenn Maxwell. A long stint in Test cricket might actually help calm him down, as it did Dave Warner.
Anyway, that's basically that for international cricket in the southern hemisphere this summer. Next stop the World Twenty20 in India in March and April. Should Australia win it, we would become the first nation to hold the 50 over World Cup title, the World T20 and the top Test ranking. Which would be rather cool.
Cricket Australia big cheese James Sutherland said the Australian team, players, coaches and support staff, can be very proud of the achievement of being number one in Tests.
"There has been an enormous amount of hard work and effort on and off the field to reach the top Test ranking and it's something that those involved with the side, and all Australian cricket lovers, should take time to savour.
"The National Selectors also deserve praise. Their roles are heavily scrutinised, but they have performed a difficult role with great effect."
The last statement was uttered, as far as we can tell, without irony.