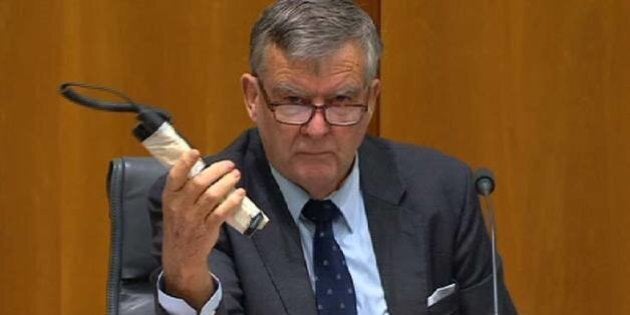 CANBERRA -- One of the true characters of the federal parliament, Liberal Party Senator Bill Heffernan, has announced he won't contest the next election. The 72-year-old former farmer from Junee, NSW, will retire from the chamber this year, drawing the curtains on an at-times controversial, always colourful career in politics.
Having entered federal politics in 1996, 2016 marks his 20th anniversary as a senator. As 'The Heff' prepares to wind down his time in Canberra, let's take a look back at some of his greatest hits.
"Blow it out your backside"
Heffernan was reprimanded in 2006 after an altercation with Senator Fiona Nash -- now the deputy leader of the Nationals -- at Canberra airport. Heffernan allegedly told Nash to "blow it out her backside," according to reports from the time.
Nash deflected questions about the episode, saying "It was just Bill being Bill", while Heffernan responded that it was simply "a bit of colour and movement" and that "Fiona Nash is not a sook".
Bringing a pipebomb into the Senate
Possibly Heffernan's most infamous moment came in 2014, when -- in a protest over what he saw as loosened security measures in parliament -- he brought a replica pipebomb into the senate chamber. He claimed the building was "no longer secure" after new security procedures.
"To demonstrate that, this morning, I brought in what could be... I brought this through security -- a pipe bomb," he told a Senate Estimates hearing, holding up a metal pipe and another replica device that was supposed to represent another explosive.
Another quotable Heffernan quote came when he was grilling Qantas chief Alan Joyce, calling him a "bomb maker."
"Mr Joyce if the power was yours, you know from being an old Irish bomb maker, if you had the choice, what would be the ideal pilot training?" Heffernan asked the Irish-born CEO.
During the same hearing, Heffernan reportedly asked a Liberal senate colleague, Julian McGauran, whether he too was an "Irish bomb maker" and made jokes about whiskey and beer.
Through his colourful career, no other incident was as widely panned and savaged as his comments toward Julia Gillard in 2007. Before Gillard became PM, Heffernan said she was unfit to lead as she had no children -- in his words, because she was "deliberately barren." The remark was later voted as the most sexist quote of 2007.
Gillard responded by saying that Heffernan was "a man of the past who is just showing himself to be a man of the past".'
In what has been hailed as the most Australian thing to ever happen in parliament, Heffernan this month remarked colourfully to a committee that heard about planes making "cross landings" at airports, instead of landing on parallel runways. Watch and enjoy.
Heffernan last month denied accusations he had muttered the racial epithet "bloody wog" during a Senate committee, despite microphones appearing to have caught his words.
In October, Heffernan claimed to have seen police documents alleging a former Australian Prime Minister was on a list of suspected paedophiles.
"We have in Australia, sadly, a compromise at the highest of levels. There is a former prime minister on this list and it is a police document," he said, using parliamentary privilege to make the claims.
"Like our churches and our other institutions who are now facing up to the truth, I think it is time the institution of the law faced reality. No one seems to want to deal with them."
"Dips**t" and "s**thouse"
"Three hours went by as we all sat around twiddling our thumbs and watched you and your dipshit colleagues trying to score political points off each other," claimed the un-signed letter, which was read out aloud during a committee hearing last May.
"You are a shithouse chair and clearly have no ability to stick to an agenda."
Heffernan took it in good stride.
"I'm disappointed the person couldn't put their name and phone number," he said in response.
"I wouldn't have bitten their head off ... historically people who tell me to get knotted, I often ring them ... and I would have said 'What could I do to help?'."