Scarlett Johansson has added yet another job title to her growing resume, this time as voice narrator on Lewis Carroll's Alice's Adventures in Wonderland in audiobook form.
It's a project close to home for Johansson, who teamed up with her sister, Vanessa Johansson (a veteran voice artist in her own right) to produce the piece with Vanessa directing and Scarlett depicting multiple characters throughout the story.
From a velvety voiced Cheshire Cat to a formidable Queen of Hearts, the Lost In Translation star's storytelling ability is flawless.
Of course, this isn't the first time the actress has blessed the world with her diverse and incredibly sultry voice.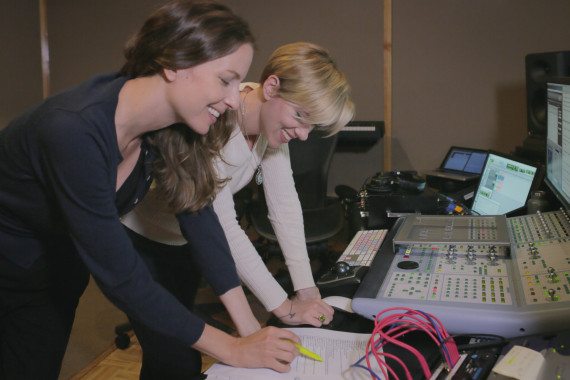 Scarlett and her sister, Vanessa in the recording studio.
In October last year, Scarlett joined forces with Saturday Night Live alum Mike O'Brien to put a sexy twist on the Old Testament for his comedy album.
The result? The most enticing Bible speak you've ever heard.
Hardly surprising since as well as being an award-winning actor, she's currently the only woman to be twice voted as Esquire's Sexiest Woman Alive -- and that appeal certainly has no problem translating.
Alice's Adventures in Wonderland, performed by Scarlett Johansson is available now from audible.com.au/.