DreamPictures via Getty Images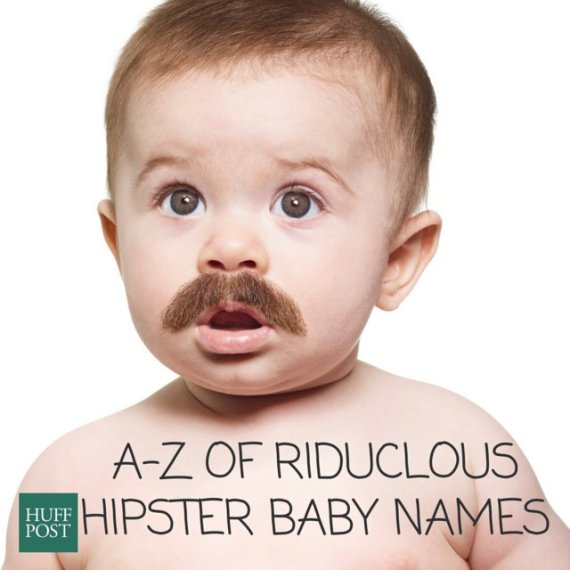 Hipsters. First they were growing facial hair, then they were drinking craft beer (and then, in a swift about-face, non-craft beer), and now the inevitable has happened -- hipster offspring.
Though it's a while before these trendy tots will be able to rock a top-bun or sport a tattoo, rest assured, their hipster-ness can be conveniently established from birth thanks to an increasing (but never mainstream) collection of 'hipster baby names', some of which are outlined in Tobias Anthony's new book Hipster Baby Names: 322 Really, Really Ridiculously Good Names For Your Kid.
Here are some of our favourites.
1. Ajax
Yes, just like the cleaning product! Apparently the roots of this name extends to Greek mythology, but let's be real, most of us immediately think of Spray and Wipe.
Honourable mentions: Ace, Arlo, Axl.
2. Banksy
Because nothing says 'hip' like naming your child after a nonconformist UK stencil artist. Especially one whose art is available in thousands of knock-off prints, t-shirts and even baby onesies, amirite?
Honourable mentions: Bento, Burlap, Beat.
3. Cub
This was a tough one to pick, because Chia (yes, as in the seed) is obviously a strong contender. However the fact 'Cub' will prove markedly more difficult to transition into adulthood made it the stand out. Wonder if one day this kid will refer to his home as a Cubby House?
Honourable mentions: Chia, Copernicus, Clive.
4. Django
Make sure you tell everyone THE D IS SILENT. Perfect for Tarantino-loving parents who want their child to grow up 'unchained', as it were.
Honourable mentions: Dali, Dixie, Deck, Dutch.
5. East
Which is definitely different to North. And West.
Honourable mentions: Enoch, Ethel, Eyelet.
6. Folk
Ooh, again a tough one. How does one choose between Folk, Fleetwood and Fixie? Here's praying for triplets.
Honourable mentions: Fleetwood, Fixie, Fox.
7. Gryff
Let's face it, Griffin has been and gone. In fact, even the use of the letter 'i' is so 2015. This year, Gryff is where it's at.
Honourable mentions: Gulliver, Godric, Gyoza (seriously).
8. Hopper
Arguably the perfect name for the Australian hipster baby, not only does Hopper loosely refer to how kangaroos get around, it also rhymes with 'Chopper' and gives a subtle nod to hops, an essential ingredient in any fine beer.
Honourable mentions: Huck, Hoxton, Holden.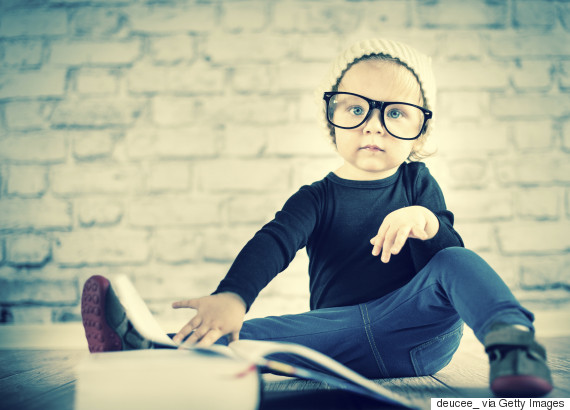 Make sure to buy your baby a pair of over-sized (prescription-free) specs.
9. Insta
Just think of the #hashtag potential.
Honourable mentions: Ike, Ithica, Indie.
10. Jagger
WARNING: According to babynames.com, Jagger is the currently placed at number 705 of names in U.S. births. This means there could be a very real risk of another baby sharing the same name as yours.
However, extra points can be awarded for pronouncing it 'Yah-ger'.
Honourable mentions: Jericho, Jezebel, Juno, Juniper.
11. Ked
Much like Kai, Ked is short, punchy and starts with a K. Also a popular brand of canvas shoes. Need we say more?
Honourable mentions: Kale, Kai, Kombucha.
12. Logan
To be revived as a girl's name only, Logan is actually from Scottish origin and means 'little hollow'. Perfection.
Honourable mentions: Leopold, Loki, Lennox.
13. Maple
Sweet like the syrup, natural as the tree. Or the leaf. Bonus: can use Canadian flag as personal cape.
Honourable mentions: Magnus, Magnolia, Major, Milo.
14. Neville
Once classified as a nerd's name, it's time to revel in Neville, don't you think? So ironic. So hip.
Honourable mentions: Nico, Nola, North.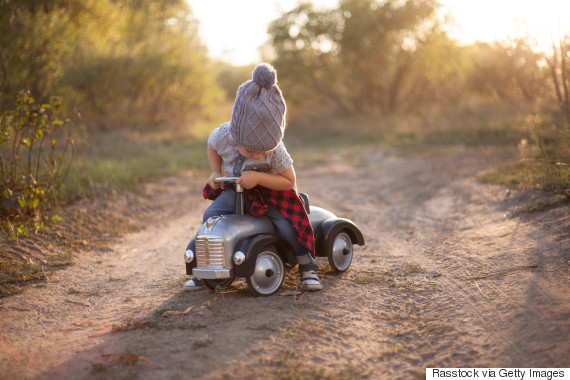 Are you sure this is a Prius?
15. Oak
Much like Maple, Oak is about NATURE. And Nature is Good. Oak is also used to make wine barrels so, that's a plus.
(Extra points if you have twins and name one Oak and one Folk.)
Honourable mentions: Orson, Orpheus, Otis.
16. Pythagoras
So retro. Much theory. Very triangle.
Honourable mentions: Prius, Prairie, Potter.
17. Quince
The perfect accompaniment to any vegan cheese board.
Honourable mentions: There are none. Quince is queen.
18. Raina
Because it's not as obvious as Rain or as boring as Rainy, but still embraces the refreshing moodiness of moisture, y'know? Because water is the essence of wetness. And wetness is the essence of rain(a).
Honourable mentions: Raven, Roscoe, Rufus.
19. Salinger
This little dude is no doubt destined to be a lover of libraries, second-hand books and dust (if he's not allergic). A good one to pick if you want the world to know his parents are extremely well-read.
Honourable mentions: Scout, Seven, Soy, Spike.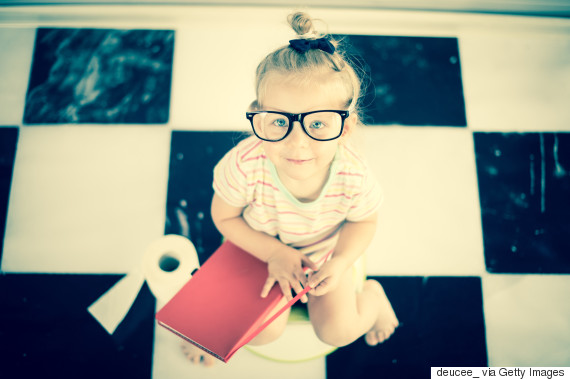 #Nofilter.
20. Tyke
Like Cub, this seems a little short-sighted in terms of remaining appropriate with age. But planning is for the unadventurous. In the meantime, you can hike with Tyke on your fixie bike -- what's not to like?
Honourable mentions:Thor, Tidal, Tulle.
21. Ursula
This was the only 'U' name in Anthony's book so we didn't really have choice here, but props to The Little Mermaid nostalgia factor.
Honourable mentions: Nil.
22. Valencia
One of the better Instagram filters. Now also a name for your adorable baby girl.
Honourable mentions: Van, Vera, Velma.
23. Woodstock
What's this? A brand of bourbon AND an iconic hippie music festival in '69? Stop it.
Honourable mentions: Wren, Winona, Wisky, Wolfgang.
24. Xiomara
Any ideas on how to pronounce this one? Us, either.
Honourable mentions: X?
25. Yara
It's not Zara. It's not Tara. Or Lara. YARA.
Honourable mentions: We got nothin'.
26. Zen
Because what is the experience of bringing a newborn child into this world if it's not zen? We don't know. We just don't know.
Honourable mentions: Zeitgeist, Ziggy, Zowie, Zooey.
Hipster Baby Names: Really, really, ridiculously good names for your kid is available at selected retailers for AU$ 22.99.