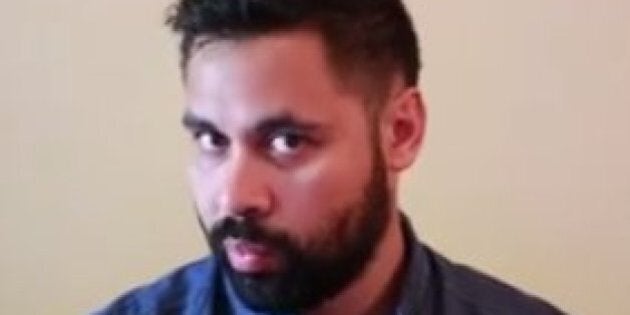 In response to a number of recent blackface incidents, Indigenous actor Bjorn Stewart has spoken out in a parody video how to "do blackface properly".
The video, titled 'Bjorn's make-up tips for blackface', was posted to the Cope ST Collective Facebook page on Monday and has since gone viral.
Stewart told the Huffington Post Australia the idea had been formulated at the start of the year, but he and fellow Cope ST Collective member, Kodie Bedford, hadn't had time to put it together. It wasn't until Opals player Alice Kunek posted an Instagram picture of herself in blackface that the duo got to work.
"After the fourth blackface incident this year, we got straight onto it. We made the video and posted it that day," Stewart said.
Stewart believes comedy is the best way to communicate with people and enables the message the be delivered.
"As long as we are starting a conversation and getting people to talk about it and getting people of colours voices heard and letting people know there is no excuse for racism.
"The people that are saying blackface isn't offensive, is a slap in the face. There are no excuses for racism," Stewart said.
Stewart and Bedford's video has been viewed over 100,000 times.
It didn't take long for people to get really, really angry with Opals star, Kunek, who was dressed as rapper Kanye West for the 'Silly Sunday' celebrations for the Melbourne Boomers, her WNBL team. Leading the charge was Liz Cambage, a 24-year-old 203cm Australian basketballer and Opals player of part Nigerian descent.
Cambage's initial tweet, and several others, summarised the response of many who were deeply offended at Kunek's blackface makeup.
The history of blackface is often not understood by Australians. In America, it was a comedic device that lampooned and belittled black people. In contemporary western societies, any white person who wears black makeup is generally considered to be paying homage to this tradition.
Earlier this week, The Project spoke with Buzzfeed's Indigenous reporter, Allan Clarke in a bid to answer: "Is it always racist to wear blackface."
"The short answer is yes, Carrie, it's always racist," Clarke answered. "Knowing the history of why people did blackface, it's a grotesque caricature of slaves. That's how it originally started and it's evolved into a way of demeaning a race of people. In Australia, Aboriginal people feel offended by it."
Steve Price hit back at Clarke and said he was 'completely' overreacting.
"This girl, Alice, put on a bit of makeup. She may offend a few people but she's not being racist. She's not deliberately being racist," he said.
Clarke replied: "Well if her teammate whose father is Nigerian thinks it's racist, then it is racist," Clarke replied. "Let the people of colour define what's racist. Let them define what's offensive to them. If it offended her, then so be it."