After a 38 year wait, the men and women who marched in Sydney's first gay and lesbian Mardi Gras have received an apology from the state for their mistreatment and shaming at the hands of police, politicians and the media.
On June 24, 1978, about 500 people and a single float gathered at Darlinghurst's Taylor Square to celebrate diversity and to call for an end to the criminalisation of homosexuality.
Now known as the 78ers, the parade goers were later met by police and, after violent clashes, 53 people were arrested before being subjected to public shaming by police, politicians and the media.
On Thursday, just over a week ahead of Sydney's 38th Gay and Lesbian mardi gras, the 78ers received a formal apology for their treatment.
"The pain and suffering that was meted out to you that night and afterwards was undeserved," said Bruce Notley Smith, NSW member for Coogee, who moved the motion of apology in the NSW Legislative Assembly.
"As a member of the parliament which dragged its feet in the decriminalisation of homosexual acts, I apologise and say I'm sorry. And as a proud gay man and member of this parliament offering this apology, I say thank you."
About 70 of the original marchers rose to their feet in the packed public gallery on Thursday to applaud Notley Smith's address. There was loud cheers when the Greens MP Jenny Leong, who read out personal accounts of the fear and violence experienced by many on the night, called for the NSW police to add their voice to the apology.
Independent MP Alex Greenwich, himself openly gay, said NSW had the "gayest parliament in Australia."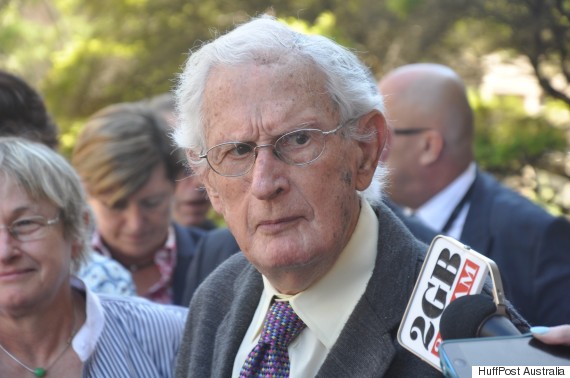 Ron Austin, a 78er credited with coming up with the idea for the first Mardi Gras, said revellers were "sick and tired of being second class citizens."
It was Ron Austin's idea to have the evening Oxford Street street party which became the first gay and lesbian Mardi Gras, following a day of events in the city.
"We were sick and tired of being second class citizens," he told the press after the apology.
"It was intolerable, inexcusable."
Kate Rowe was arrested that night and still reflects on what happened -- the feeling of being entrapped, of being "completely set up, and completely falling for it" and the torment from colleagues took years to get over.
When she returned to her job shortly after her arrest, her workmates would put porn on her desk. She said her job was saved by a HR manager, a closeted gay man, who told her to keep her head down.
"That was the hard side. I hated myself enough, but then to be treated in such a way that reinforced that hatred took me years to get over," she told the Huffington Post Australia.
But she said something positive was also born that day. Rowe went from watching politics from the sidelines to becoming directly involved, particularly in different lesbian and gay sporting organisations.
"The upside of that was it was my political chrysalis," she said.
"It was my rude awakening. But it was an incredible awakening and it literally did change the course of my life."
Full gallery 78ers apology in @NSWParlLA @PennySharpemlc @TrevorKhan1 @AlexGreenwich @jennyleong @johaylen #nswpol pic.twitter.com/POW9byBLjq

— Bruce Notley-Smith (@bnotleysmith) February 25, 2016
For 78er Ray Goodlass the apology was also profound, but in a way that surprised him.
"The thing I hadn't expected was to be thanked as a 78er by the MPs who were speaking," he told the HuffPost Australia following the apology.
"That brought home for me, in a way I really hadn't quite thought of before, about how important a part of our queer history that was and the change it set rolling."
For Goodlass, who came out in the 1970's, the June 24 march was the first public demonstration he'd taken part in.
And so like many 78ers he had no idea what the march he had been part of would become, or what it would mean.
"That felt powerful," he said of that first march.
"But once the police hovered in, it was frightening. It really was terrifying."
Congrats to my friend Steve Warren for his commitment and hard work to get us to today's apology to the 78ers #78ers pic.twitter.com/BHhW04fTg4

— Christine Forster (@resourcefultype) February 25, 2016
NSW would finally decriminalise homosexual acts in 1984, six years after the 78ers took to the streets. It wasn't until October 2014 that people convicted of homosexual acts could apply to have their previous convictions expunged.
On the eve of the parliamentary apology on Wednesday, The Sydney Morning Herald's editor in chief Darren Goodsir apologised for the paper's role in publishing the names of the 53.
Subsequent editions carried the details of more protesters, including the names of 104 people facing charges stemming from another homosexual rights march, the Herald reported on Wednesday.
"In 1978, The Sydney Morning Herald reported the names, addresses and professions of people arrested during public protests to advance gay rights. The paper at the time was following the custom and practice of the day," Goodsir said.
"We acknowledge and apologise for the hurt and suffering that reporting caused. It would never happen today."
The NSW apology comes as a growing number of Australia's federal MPs attack the safe schools program, which is geared towards supporting gay, lesbian and transgender school students.
On Tuesday, Prime Minister Malcolm Turnbull asked Education Minister Simon Birmingham for an independent review to ensure the $8 million program is age appropriate.