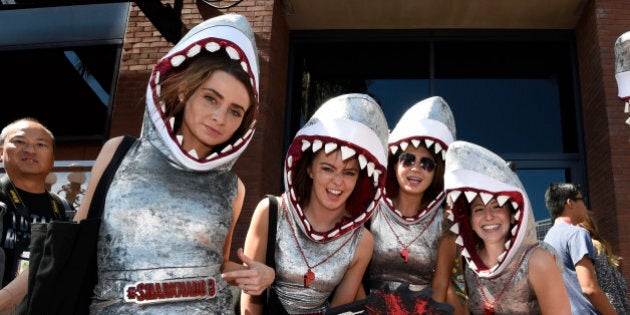 If the bizarre Hollywood blockbuster Sharknado stuck to scientific facts, it wouldn't be particularly exciting.
Australian scientists accidentally recorded the closest thing to a sharknado when a Category 5 cyclone struck a bay with more than 100 tagged black tip reef sharks.
"Well really they all just hunkered down," lead author Andrew Chin said.
"It was during Cyclone Yasi and to be honest, we expected all the sharks to leave, because that's what international research had show in the past but all the white tip reef sharks stayed.
"Other shark species left but the black tips hung around."
The James Cook University study centred around Cockle Bay near Townsville that seemed to have a "magnetic pull" for the sharks.
"We don't exactly know why but there's something about Cockle Bay," Chin said.
"Some of the sharks just don't leave, it's like there's a magnetic pull."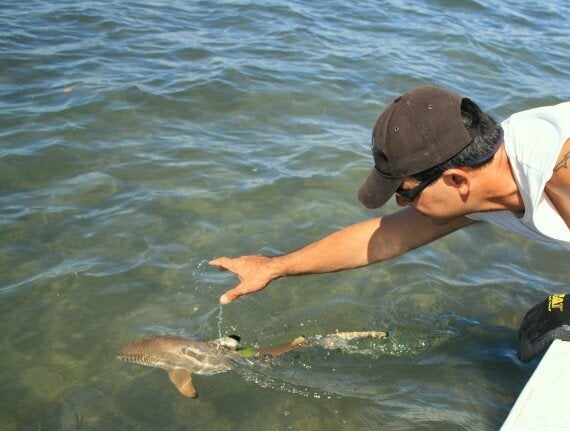 A tagged shark is released. Picture: James Cook University
The research uncovered a never-before-observed phenomena where female sharks stayed close to shore with the juvenile sharks while the males roamed the outer reef about 40km away.
"Usually a big shark will eat a little shark so you don't see big females in the nursery," Chin said.
"This research kind of breaks that established relationship because we found the females were spending their whole lives in the bay."
He said it showed a healthy population of sharks living on reefs could actually rely on shallow shore environments.
"If we want look after reef shark populations for divers and fish, we need to know where their breeding centres are," he said.
"There are probably places like Cockle Bay up and down the coast."