It's official -- Australians can now feel good about drinking beer because by doing so, they'll be helping to save the Great Barrier Reef.
The Good Beer Co. has passed its crucial crowdfunding stage and is brewing Great Barrier Beer -- a delicious Indian pale ale. The winners here are Aussie tastebuds and the Australian Marine Conservation Society, which will receive 50 percent of the profits from beer sales to help save the Great Barrier Reef.
The beer has been brewed by Bargara Brewing Company, appropriately located in Bundaberg and right next to the valuable reef the social enterprise is trying to save.
The Good Beer Co. is the brainchild of James Grugeon, who was inspired and supported by UK's Two Fingers Brewery and US brewer Finnegans which donate money for prostate cancer and to feed the homeless. He was convinced Aussies would drink up for the Earth, too.
"I've been thinking for a long time that beer has got to be something that we can use as a force for good," Grugeon told The Huffington Post Australia.
Having a cold one for the Reef at the Brisbane launch of Great Barrier Beer! pic.twitter.com/TpYmeIZ1Kh

— Marine Conservation (@AustMarConsSoc) February 20, 2016
Minister for the Great Barrier Reef Steven Miles MP, second from left, launching the Great Barrier Beer with Brewski owner Matt Emmerson, James Grugeon and AMCS CEO Darren Kindleyside.
The crowdfunding campaign fell short of its $100,000 goal, but Grugeon says a surge in last-minute orders from pubs and bars has meant the project is now off and racing.
"We raised $37,000 through the campaign but by the time we finished the PR and social media campaign and were ready to order the first batch we had topped $60,000 in pre orders," he said.
"We've now brewed our first batch of 38 kegs and 12,000 bottles, which is about to be dispatched to the 360-plus people, pubs, companies and venues that pre ordered Great Barrier Beer."
The beer has made an appearance at Melbourne's recent Sustainable Living Festival and was officially launched by Minister for the Great Barrier Reef Steven Miles MP who pulled the first pint at Brisbane bar Brewski.
"I'm delighted to be on hand to serve up the first pint of Great Barrier Beer," Dr Miles said. "It's a fantastic idea, because it's so simple -- you get to enjoy a cold one and give back to a cause you care about.
"Our Great Barrier Reef is the world's largest coral reef and one of the greatest tourism destinations on the planet. We know the reef is important to Queenslanders and its protection is a priority for the Queensland Government. It's wonderful to see an initiative that allows everyday people to get involved."
And first reports are that the taste is mighty fine. Prime Minister Malcolm Turnbull was one of the first to give it a try during a visit to the brewery last week.
The Indian pale ale recipe was chosen over an Australian blonde at an event in Brisbane late last year, with the crowd being asked to vote with their bottle tops between the two.
The beer not only tastes great, it's also as environmentally friendly.
"Great Barrier Beer uses all Australian ingredients, Australian hops, Australian grain and most importantly Queensland rainwater and we utilise solar energy in the brewery and 50 percent of all profits go back to protecting the Great Barrier Reef," said Jack Milbank, CEO and co-owner of Bargara Brewing Company.
Grugeon said beer drinkers in Sydney, Melbourne and Brisbane will soon be able to buy it in bars, but beer fans can pre-order for the next batch online.
"The beer is now for sale through our website through our partnership with Bargara Brewing Company and we're rolling it out into pubs, bars, venues and bottle shops across Australia," he said. "So we're up and running and looking to sell as much beer as possible!"
And they want to boost sales so they can to help the Australian Marine Conservation Society continue to keep up the good work on the Reef.
"As an organisation that is Queensland born and bred, the Great Barrier Reef has always been in our blood,' said AMCS CEO Darren Kindleyside.
"We've worked helping to protect the reef for 50 years and so what we get out of this is much needed funds to support our work and support a healthy future for the Great Barrier Reef."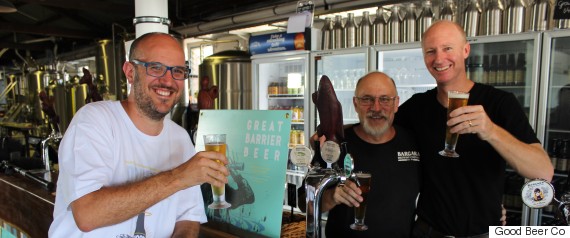 James Grugeon with Bargara Brewing Company head brewer Andrew Clarke and Bargara owner Jack Milbank taste testing the Great Barrier Beer at the launch.
Grugeon is also joining forces with Former Powderfinger bassist John Collins to launch Sounds Good, a free event to support local Brisbane bands.
It will be held at iconic venue The Triffid, owned by Collins, and the site for Good Beer Co.'s crowdfunding launch.
"When they got the beer funded and up and running, I asked James if there was anything else I could do to support them," Collins said.
"That's when we came up with Sounds Good -- a way for The Triffid and The Good Beer Co to celebrate the musical talent here in Brisbane, give them a platform and some solid support and put on a great free event for our local community."
Sounds Good will kick off at The Triffid from 6pm on Thursday March 24.