MARK RALSTON via Getty Images
Relax, internet. Leonardo DiCaprio has finally managed to bag an Academy Award.
The actor and environmentalist -- who has been nominated five times for acting throughout his career and once as a producer -- can finally add 'Oscar winner' to his CV after taking home the 'Best Actor' award on Sunday for his performance in 'The Revenant'.
DiCaprio beat out last year's winner Eddie Redmayne ('The Danish Girl') as well as Michael Fassbender ('Steve Jobs'), Matt Damon ('The Martian') and Bryan Cranston ('Trumbo') for the coveted Best Actor gong.
Previously he has been nominated for Best Supporting Actor in 'What's Eating Gilbert Grape' (1993), and for Best Actor in 'The Aviator' (2005), 'Blood Diamond' (2007), 'The Wolf of Wall Street' (2015) and 'The Revenant' (2016). His role as producer on 'The Wolf Of Wall Street' also landed him a co-nomination for Best Picture.
A visibly chuffed DiCaprio accepted the Oscar from 2015 Best Actress winner Julianne Moore, and used his time in the spotlight to "thank everyone from the onset of my career" as well as to highlight some of his concerns about the environment.
"Climate change is real, it is happening right now," DiCaprio said. "It is the most urgent threat facing our entire species.
"We need to work collectively together and stop procrastinating.
"Let us not take this planet for granted. I do not take this night for granted."
Shortly after his win, DiCaprio posted to his social media accounts urging fans to take action regarding climate change.
The actor posted the link to environmental organisation Moment for Action, though at the time of writing, the site was down due to a surge in activity.
Despite many other renowned actors also having been nominated numerous times without a win, it was DiCaprio's plight that really captured the hearts and minds of internet users, with #OscarForLeo trending on Twitter.
Of course, one of the saddest things about Leo's win is the internet will no longer have cause to make hilarious #OscarForLeo memes, which will no doubt be missed by everyone but DiCaprio himself. Check out some of our favourites below.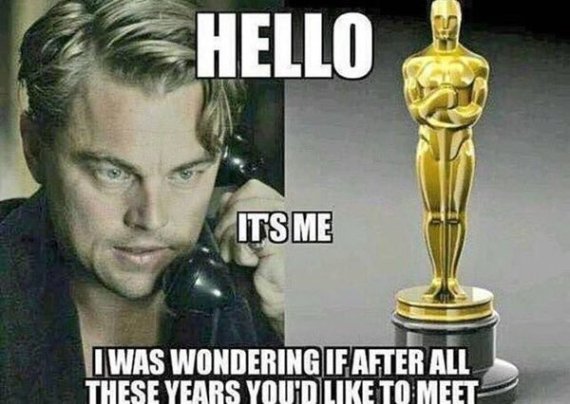 OMG HAHAHAHA pic.twitter.com/JNclhpkHvx

— Aaron (@aarxns) February 28, 2016
In all seriousness, though, congratulations to Leo and to all the other nominees and winners. (Did you know a whole bunch of Aussies are also going home with gold? Find out more here.)
The Oscar winners were announced at the 88th Academy Awards ceremony, hosted by comedian Chris Rock in Hollywood on February 28.