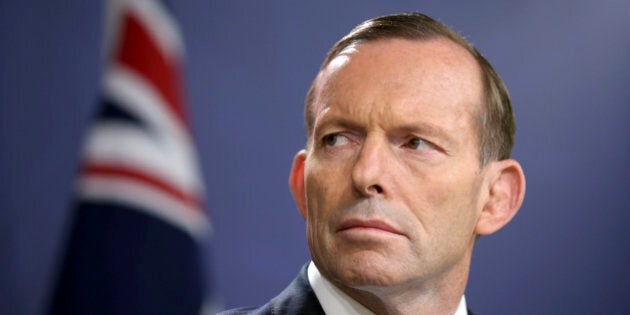 CANBERRA -- Former Prime Minister Tony Abbott has labelled the Safe Schools Coalition LGBTI framework a "social engineering program" and called for its funding to be cut, despite his government launching the program with some very kind words in 2014.
Speaking to The Australian newspaper, Abbott -- who, despite his promises to refrain from "sniping" at the Turnbull government, has been a regular political critic for and contributor to media pages as of late -- voiced his concerns at the program. The funding for Safe Schools, which aims to educate students about LGBT issues and promote an anti-bullying message, is under review after a campaign by conservative politicians and lobby groups.
"It's not an anti-bullying program," Abbott told The Australian.
"It's a social engineering program. Its funding should be terminated."
Abbott's comments seem jarring, as Safe Schools was launched under his administration in June 2014. A prominent government senator even officially unveiled the program. Here's the list of guests for the launch event, according to the Safe Schools website:

Scott Ryan, now Minister for Vocational Education and Skills in the Turnbull administration, had some very kind words to say when he gave the opening address to mark the official launch of the program on June 13, 2014.
"Every student has a right to feel safe at school."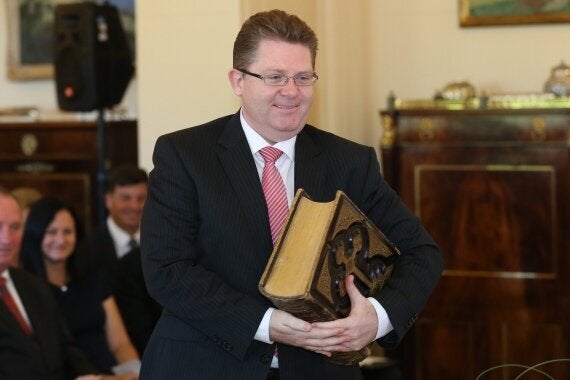 Ryan being sworn in as minister, on his giant family bible
Ryan mentioned his fellow senator Penny Wong, and pointed out that it was a Labor government that made the commitment to fund Safe Schools, then went on to acknowledge specific issues around young LGBTI people and bullying.
"While there are specific challenges and lessons to learn about the gender and sexuality issues you are focusing on today, I think we all benefit from reflecting on our own experience and behaviour," he said.
However, Ryan did later hint that he did not fully support a program specifically for LGBTI issues and showed support for a more broad-based anti-bullying message.
"While I do not intend at all to dismiss the unique challenges in this area, it provoked me to consider the role of programs directed at specific motivations for bullying as opposed to more general lessons and principles," he said.
"While individuals all face different challenges, and social attitudes evolve at different paces, I cannot help but think that the path to ending this type of behaviour is through simply recognising the dignity of each person as an individual and the validity of their choices. History has taught us that it is when we forget this, and we think of another person as primarily identified by some trait or label, that they are depersonalised. It is then that their feelings are more easily dismissed, or their dignity and individuality disregarded."
"I'll be honest and say I am not primarily motivated by any alleged reason that bullying occurs: I see our challenge to stop the behaviour where it is destructive in our schools."