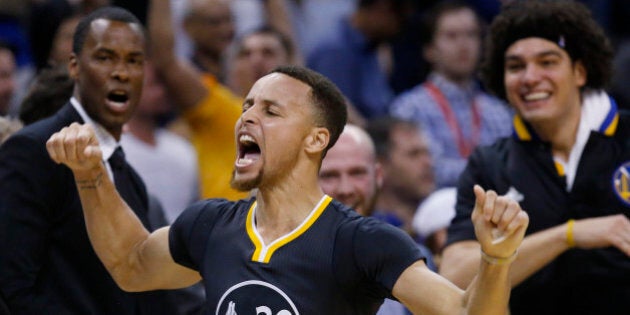 Steph Curry did this over the weekend. It was a last gasp match winner in overtime for his Golden State Warriors against the Oklahoma City Thunder. Oh, stop it.
If your brain only has room for one basketballer and that guy is still LeBron James, you should clear a little space for Curry, who was last season's NBA Most Valuable Player, and will likely repeat the dose this year.
We've all seen footage before of some guy making a miracle shot from halfway up the court. Even amateur golfers fluke holes-in-one occasionally. But Curry makes shots from nearby postcodes with astonishing regularity. No one now, or ever, has shot from long range with such consistency before. Here are some stats that show that.
Speaking of long range, the Super Rugby Competition is now officially a trans-global juggernaut. This is the thing that started in 1993 as the "Super 10" with 10 teams -- three from Australia, three from NZ and three from South Africa, plus one from the Pacific Islands. It soon evolved into the "Super 12", then the "Super 14", then a 15 team comp which was just called "Super Rugby".
And now it has 18 teams. There's a new South African team, a new Japanese team with the very cool name "The Sunwolves", and there's these guys, the "Jaguares" out of Buenos Aires Argentina, who scored the best try you'll ever see to help erase a huge 24-3 deficit and beat the Cheetahs in South Africa. This wasn't rugby. This was some sort of dancing sport.
All your Super Rugby scores are here. In other oval ball code news, one of the big sporting questions of the weekend was answered when Essendon actually won a football match. They beat Carlton in the pre-season NAB Challenge, which is a bit like beating Norfolk Island in a war but hey, the club torn apart by the supplemengts saga has to start somewhere. More footy scores here.
Did you see the thing Nick Kyrgios did last week? He urged his opponent Tomas Berdych to challenge an out call on Berdych's serve. Kyrgios felt it was an ace, and so it proved. What sportsmanship! Uh oh, think we're starting to love this guy.
So do we love Bernie Tomic yet? No, but we respect him for making the final of the Acapaulco Open on the weekend. He lost, but frankly with his track record, Tomic did a good job of making it to the tennis court at all in a town like Acapulco.
What else happened this sporting weekend? Lots. Manchester United beat Arsenal in the English Premier League, which means it's now Leicester City from Tottenham Hotspur on the EPL ladder with the Gunners five points off the pace.
You know the old saying "play the ball, not the whistle? Well this video is a really good reminder of why. At about the two-minute mark in the video, the ball appears to go out. Or does it? Anyway the Southampton defenders are so busy waving their arms to attract the ref's attention that they kind of forget to defend. Cesc Fabregas duly scores, which was a real not-with-a-bang-but-a-whimper of a way to end Fraser Forster's remarkable 708-minute run of not conceding a goal. Yep, almost 12 hours.
And here's Manchester United manager Louis van Gaal indicating that he feels an Arsenal player just dived.
Memes galore have predictably followed.
Also on the weekend, South Korean golfer Jiyai Shin won the Ladies Masters at Royal Pines on the Gold Coast, in an event which featured a trademark Pommie whinge. No Australian finished in the top 10. In men's golf, Adam Scott just won on the US PGA Tour. It's his first win since 2014 and follows some strong recent form which has him well placed for next month's Masters at Augusta.