Royal Commission
Cardinal George Pell has told a Royal Commission his superiors may have deceived him over why paedophile priest Gerald Ridsdale was being moved between parishes in the 1970s.
Australia's highest ranking Catholic, who was then a priest in Ballarat, Victoria, also told the hearings Ridsdale's abuse was a "sad story and it wasn't of much interest to me."
Pell on Tuesday gave his second day of evidence to the Child Abuse Royal Commission from Rome, which is investigating how Church authorities responded to allegations of abuse in Victoria between 1970 and the 1990's.
In 1977 Pell became a consulter, someone who gave advice on the placement of priests, to Bishop of Ballarat Ronald Mulkearns.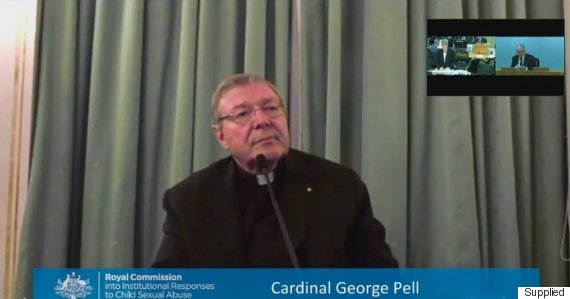 Cardinal George Pell told a Royal commission rumours of abuse by paedophile priest Gerald Ridsdale, were "not of much interest to me".
Pell said Mulkearns, now 85 and in palliative care, and a Monsignor Fiscalini deceived him at meetings where moving Ridsdale was discussed.
During Tuesday's hearing, Royal Commission Chair Peter McClellan interjected to quiz Pell about how other consulters seemed to know about allegations of Ridsdale's abuse, except for Pell and one other consulter.
"It is even more surprising if they've deceived you in relation to allegations that the priest under consideration had been said to have sexually abused children," McClellan asked, adding "It's hard to imagine a greater deception, isn't it?"
"Well, it probably would be possible to imagine a greater deception but it's a gross deception," Pell replied.
Ridsdale was sentenced to eight years jail in 2014 for the abuse of 14 children.
Mulkearns, during Royal Commission hearings last week, apologised for failing to halt what he called a "problem with priests."
McClellan also pressed Pell on why Mulkearns would choose to deceive him, a member of his consultors, about Ridsdale's behaviour when it was common knowledge in at least two of Victorian parishes.
"Given that it was common knowledge amongst many people why would he choose to deceive you," McClellan asked.
"Because he would realise that I didn't know and he did not want me to share in his culpability and also I think he would not have wanted to mention it to me and some - at least some other members of the consultors because we were at the very minimum we would have asked questions about the propriety of such a practice," Pell said.
McClellan asked him if the commission formed the view he did know about Ridsdale, would he also be culpable.
"That's correct," Pell said.
Sounds of shock could be heard after Pell said during the hearings rumours of abuse by Ridsdale, were "not of much interest to me," after he was asked by counsel assisting the commission, Gail Furness SC, if he knew that it was common knowledge Ridsdale was interfering with children at Inglewood.
"I couldn't say that I ever knew that everyone knew," Pell said.
"I knew a number of people did. I didn't know whether it was common knowledge or whether it wasn't. It's a sad story and it wasn't of much interest to me."
"It's a sad story and wasn't of much interest to me" - George Pell speaking about Ballarat's Gerald Ridsdale #7News https://t.co/XzRAwkXzP2

— 7 News Melbourne (@7NewsMelbourne) February 29, 2016
There were audible sounds of surprise from off screen after he spoke, however it is unclear if the sounds came from the Rome hotel room where he is giving evidence or from the Sydney hearing room where his testimony is being broadcast.
Furness then asked Pell: "What wasn't of much interest to you, Cardinal?"
"The suffering, of course, was real and I very much regret that but I had no reason to turn my mind to the extent of the evils that Ridsdale had perpetrated," he replied.
Following the hearings and speaking from Rome, abuse survivor David Ridsdale said it beggared belief that Pell told the commission he wasn't interested in hearing about the crimes of his uncle, Gerald Ridsdale.
"That's a difficult one for me. I'll have to absorb that one over a couple of days," he told the ABC after the hearings.
"We are speaking of moral leaders, of towns and cities and for them to have no interest in such behaviour seems remarkable."
After a short adjournment, Pell was asked by Furness if it was his view that consulters who knew nothing have no responsibility, including moral responsibility, for what happened in the diocese in relation to Ridsdale.
"That is stated very... broadly. But when there is ignorance, when the ignorance is not wilful, when the ignorance does not represent somebody not doing their authority, I can't see that responsibility can be imputed to them," he said.
He said he did not accept any responsibility for Ridsdale being moved from parish to parish and he had "no such recollection of ever hearing about" a boy living with Ridsdale in a Mortlake presbytery when it was happening, and said he subsequently heard about it in the late 1980s to early 1990s.
Cardinal Pell says he was deceived by Ballarat Bishop Mulkearns re paedophile allegations against Ridsdale. pic.twitter.com/VCxmH7wsSG

— Brendan Donohoe (@BrendanDonohoe7) February 29, 2016
This RC has shown how paedophile priests operated with impunity for 15 yrs in Ballarat Mortlake Apollo Bay, etc @australian #Pell @CLAN_AU

— John Lyons (@TheLyonsDen) February 29, 2016
On Monday questions centered on schools in Ballarat in the 1970s, when Pell was a junior priest, and how he reacted to how his colleagues handled widespread abuse complaints.
On Tuesday, Pell arrived at Rome's Hotel Quirinale, about 10 minutes from the Vatican, after meeting with Pope Francis following his first four-hour session of giving evidence.
"I have the full backing of the Pope," he told reporters outside the hotel.
Just spoke to some young priests who are here to support Cardinal Pell and 'learn'. They say abuse of 70s would not happen now in church

— Lisa Millar (@LisaMillar) February 29, 2016
In the opening hour of testimony on Monday, Pell said the Church had made "enormous mistakes and is working to remedy those" in relation to its handling of child sexual abuse.
"I'm not here to defend the indefensible," he said in evidence broadcast to the full room of abuse survivors, journalists and supporters of the Church.
Monday marked Pell's third appearance before the Commission since 2014.