ASSOCIATED PRESS
A survivor of child sex abuse at the hands of catholic clergy has accused Cardinal George Pell of "extraordinary" ignorance after he again told a Royal Commission senior clergy kept him in the dark about sex abuse by priests in Victoria.
During his third day of video-linked evidence to the commission from Rome, Pell said he was deceived by staff and clergy and information was kept from him about abuse in Ballarat and Melbourne, a claim earlier dismissed by commission counsel as "implausible".
Over the course of his evidence Pell has said at various times he had been deceived by the CEO of the Catholic Education office, the Archbishop of Melbourne, Bishop Roland Mulkearns and by one or more Bishops' advisers in Ballarat about abuse.
"It is an extraordinary position, Cardinal," Counsel assisting the commission, Gail Furness SC, said.
He replied: "This was an extraordinary world. A world of crimes and cover-ups. And people did not want the status quo to be disturbed."
He said he believed he wasn't told the specifics of abuse allegations involving one priest because he would not have accepted the status quo.
"I think they would have covered up from me, as I mentioned earlier, because they would have feared that I would not accept the status quo or what seemed in retrospect to be an uneasy truce," he said.
Survivors of sex abuse, who have requested to meet Pope Francis in Rome, said the hearings showed the lack of accountability within the Church in Australia.
"I think they've completely demonstrated that and they've shown that everybody has known George Pell has consistently pointed the blame elsewhere, accused everybody of being a liar and deceit," abuse survivor David Ridsdale told reporters outside the Hotel Quirinal in Rome, where Pell was giving evidence.
"If he is telling the truth that would make him an extraordinarily ignorant man."
Australia's highest ranking Catholic, now in charge of the Vatican's finances, earlier told the hearing he regretted not doing more about rumours of child abuse.
During the testimony -- which ran until 3am Rome time -- survivors issued a statement requesting to meet with Pope Francis to discuss implementing systems to change how the church deals with allegations of sex abuse before they return to Australia on Friday.
One survivor said Pell had "given us nothing" after three days of evidence.
"We would like to request a meeting (with the pope) to discuss the commitment to the children of the past and children of the future. To implement systems so this is never repeated again," a survivor representative told reporters.
"Respectfully the survivors of clergy abuse from Australia we are flying back to Australia on Friday, and we would like to think that we could get a meeting."
Sky News reported some survivors rejected an offer to meet Pell after they were asked to sign a gag order.
Abuse survivors turn down meeting with Pell after disagreeing on conditions - from @campricenewshttps://t.co/LNvqDjaNfZ

— Sky News Australia (@SkyNewsAust) March 2, 2016
Cardinal Pell's Office later released a statement saying he would be happy to assist their meeting with the Pope.
Cardinal #Pell releases statement, "happy" to meet with victims, facilitate meeting with Pope. #TenNews 5pm pic.twitter.com/cRHX92rJfZ

— Ten News Melbourne (@tennewsmelb) March 2, 2016
Survivors read from statement re meeting Pope. They said they were told to fax request which they did pic.twitter.com/Hp4pUhfp5M

— Lisa Millar (@LisaMillar) March 1, 2016
On Wednesday Pell was asked about rumours of sex abuse surrounding numerous priests and brothers, including Brother Ted Dowlan, who was later jailed for abusing 20 children at four Victorian schools.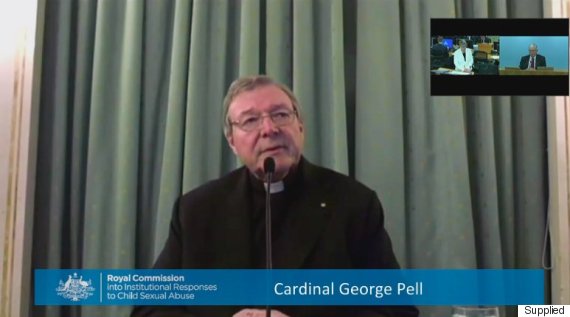 Cardinal George Pell is appearing before the Royal Commission via video-link from Rome.
Pell, who at the time was the local Bishop's education representative, said he couldn't remember details about the allegations, but there were "unfortunate rumours" about Dowlan, but they were "always vague and unspecific".
He said he didn't feel responsibility to pass the rumours on to his Bishop.
"No, I didn't," he said in response to a question from Furness.
"I certainly would not have presumed that he definitely would not have known, but any how, I didn't. I regret that I didn't do more at that stage."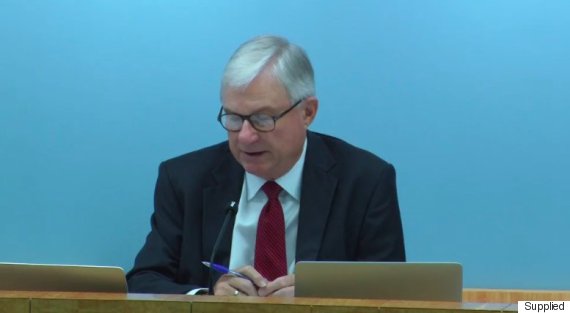 Royal Commission Chair Peter McClellan on Wednesday
Pell was taken through complaints about Father Peter Searson, including that teachers wouldn't allow students to be alone with him, that he taped confessions, made children kneel between his legs during confession and at one time pointed a gun at people.
The priest, who is now dead, was also accused of stabbing a bird in front of a room full of children and of holding a knife to the chest of a young girl in church, telling her "if you move, this will go through you".
Pell said the Catholic Education Office gave him non-specific information about Searson ahead of a 1989 meeting with delegates who had come to complain about the priest's behaviour.
Commission Chair Peter McClellan asked the Cardinal if he could think of any reason why the office would deceive him.
"I was a new boy on the block. I was known to be capable of being ... outspoken. They might have been fearful of just what line I would take when confronted with all the information," he replied.
Furness later put it to Pell that his evidence about not being briefed properly by the Catholic Education Office was completely implausible.
"Um, counsel, I can only tell you the truth, the whole story of Searson is quite implausible and the cover-up is equally implausible. I can only tell you the way it was as far as I'm concerned," he said.
He later said when he later became Archbishop of Melbourne, he "turned the situation right" with the Church's Melbourne Response procedures "light years ahead of all this obfuscation and prevarication and deception".
Pell introduced the Melbourne Response -- a process to deal with people sexually abused by priests and clergy -- in 1996, which the commission found was insufficiently independent of the Church.
Furness suggested Pell had knowledge in relation to misconduct by paedophile priest Gerald Ridsdale either during or shortly before he met with a group of bishop's advisors in 1982, and that the Catholic Education office properly and adequately briefed him in in relation to Searson.
He denied he was properly briefed, and at one point denied his answers were constructed to deflect blame from himself.
Abuse survivors: "We find it hard to believe the Pope would back George #Pell on those types of comments" @SBSNewspic.twitter.com/JgsUWLnQ57

— Brett Mason (@BrettMasonNews) March 1, 2016
On Tuesday, audible gasps could be heard from survivors when Pell told the commission crimes committed by paedophile priest Gerald Ridsdale was a "sad story" that "wasn't of much interest to me".
The Cardinal's evidence, which was initially expected to last three days, will now stretch into Thursday.
Cardinal George Pell arrives at royal commission. anticipated gruelling 4 hours evidence,3rd day. Said good evening. pic.twitter.com/X9iphWcwPc

— Jacquelin Magnay (@jacquelinmagnay) March 1, 2016
Two strong front pages from Melbourne's leading newspapers. #Pellpic.twitter.com/NTrTZHPa5u

— Ryan Sheales (@RyanSheales) March 1, 2016