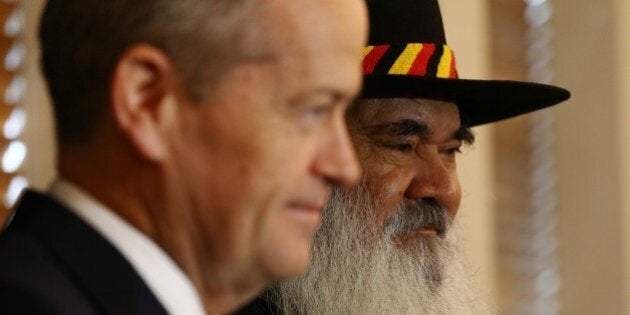 CANBERRA -- Indigenous leader and "father of reconciliation" Pat Dodson has been tapped to become a federal senator, after Western Australian senator Joe Bullock announced his resignation on Tuesday.
Opposition Leader Bill Shorten announced on Wednesday that he would endorse Dodson to fill the position left by Bullock, who resigned in disagreement over Labor's support for same sex marriage. Bullock is expected to leave the parliament next week.
Dodson, from Broome, is a Yawuru man and a leader in Indigenous affairs, having previously chaired of the Council for Aboriginal Reconciliation. Known as the "father of reconciliation" for his work in championing indigenous advancement, Dodson said he was formerly a Labor party member in the 1980s but had not had any formal political affiliation since then.
A crowd of senior Labor MPs, with indigenous senator Nova Peris seated in the front row, gave raucous cheers as Shorten told a packed media conference of his push for Dodson to sit in the senate.
Dodson said Shorten's phone call came as a surprise.
"It took me a little while to adjust to the idea," Dodson said in Canberra.
Shorten was glowing in his praise for the indigenous leader.
"Pat Dodson's CV speak s for itself. He is a person of unmatched intelligence, integrity and achievement. He's nationally recognised and rightly admired as the father of reconciliation," he told the press conference.
The announcement was a surprise after a surprise, with Bullock resigning just two years into his six-year senate term. Reports emerged soon after Bullock's resignation announcement that former senator Louise Pratt, who was effectively dumped in favour of Bullock at the last election after she was demoted from the top place on Labor's senate voting card.