For most teenagers, solving the world's problems doesn't rate too highly on their priority list.
While most of us were still trying to figure out who we were, 19-year-old Daniel Flynn was trying to find a way to save the world from extreme hunger and poverty.
In 2008, alongside co-founders Justine Flynn and Jarryd Burns, Flynn created Thankyou -- a social enterprise which has so far generated $3.7m to bring clean water, sanitation, food programs and hope to those on the other side of the world who had gone without.
To do that, he asked for your support by buying Thankyou's range of water, food and body care products and to date, that support has provided funding for safe water access for 192,367 people, hygiene and sanitation programs for 302,814 people and 19.1 million days of food aid to people in need across 17 countries.
But now Flynn reckons it's time to change the game, with the 28-year-old putting the future of Thankyou in your hands.
The Thankyou movement, which has no director ownership, no shareholders and is 100 percent profit to cause, wants to raise $1.2m to fund two $600,000 projects that will help continue and extend their life-changing work -- an expansion into New Zealand, and the launch of Thankyou Baby; a range of nappies and baby care products, the proceeds from which will be used to fund maternal and infant health programs in Nepal.
And here's where you come in.
Last week, the movement launched a crowdfunding campaign which invites you to 'pay what you want' for a copy of Chapter One: a raw, personal and honest book written by Flynn about the beginnings of a movement that's changing the world.
Flynn said profit from the sale of Chapter One -- sold online and at Relay, NewsLink and Watermark airport bookstores -- will go towards their $1.2m funding target.
"At Thankyou, historically with our campaigns we've gone to the crowds for support every time we've needed to solve a problem that we couldn't solve on our own," he told The Huffington Post Australia.
"But we've taken it a step further here, saying 'hey, would you support this with not just a click or a like, but would you actually help fund the future of Thankyou?'
"The pay-what-you-want concept came with challenges, but it's empowering people to help make a real difference.
"I love that we're turning readers into mini social investors. I've never read a book where you got to be part of the story, and that's part of what we want to do."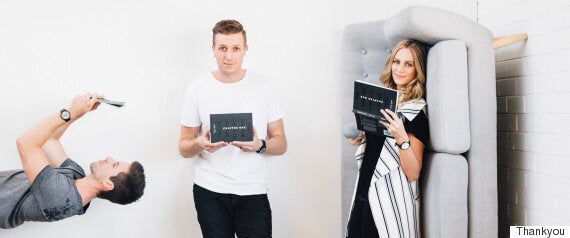 Thankyou co-founders Jarryd Burns, Daniel Flynn and Justine Flynn with Chapter One.
Flynn said Chapter One detailed the history of Thankyou to date, from a crazy idea to tap into the lucrative bottled water market to fund clean water projects in developing countries, right through to where the movement sits today.
If the current campaign is successful, it will provide the inspiration for Flynn to write Chapter Two, and so on.
"Some people challenged me as to why there weren't more 'buy the products now!' messages in the book ... I didn't want it to be like that," he said.
"I want people to feel a part of it, but if that was all it was, a way to tell people to buy the products, the book would be one big ad, and I don't like ads.
"It's a way to involve people in the future of Thankyou but it's also a way for us to give back to those people who have supported us.
"I hope this book challenges people and gets them to do amazing things in their own lives and their own careers."
In keeping with Thankyou's non-traditional approach to, well, everything, Chapter One is printed as landscape rather than side-by-side portrait pages so that each time you pick it up, you're being reminded that to impact change, you need to think -- and act -- differently.
Until they reach their $1.2m target, Flynn and the Thankyou team are spending eight hours a day, five days a week at a warehouse in Melbourne's outer suburbs, packing and posting sold copies of Chapter One.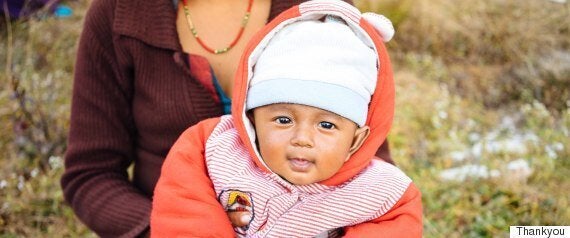 Thankyou wants to raise funds to help mothers and infants in Nepal.
Flynn said he was thrilled when airport bookstore chains Relay, Newslink and Watermark agreed to stock Chapter One.
"When a buy a book at an airport, you're going to read that book on a plane and it could end up anywhere in the world," Flynn said.
"It's unstoppable. And that's the same statement we're trying to make about this whole Thankyou concept -- it's a little, humble idea, but it could go anywhere and it's up to people to take it there."
When it comes to Thankyou's product range, you don't have to settle for buying inferior products just to feel good that your money's going to a good cause -- market research has shown that only 46 percent of people who buy Thankyou products know about the impact their purchase will make; 54 percent buy them simply because they're good products.
"When I heard that only 46 percent of people who buy our products know about the cause, I was a bit discouraged," Flynn said.
"But then I realised it validates that underlying idea we have internally of 'make great product'.
"People will buy a product once if it's for a good cause. They'll keep buying it if it's a good product. We want to get it up to 100 percent of people who know about the cause and that's why this book is so important."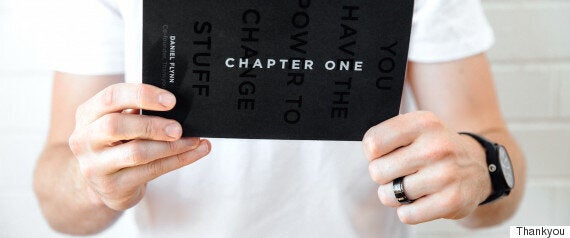 All profits from the sale of Chapter One will fund the future of Thankyou.
Even though Flynn knows Thankyou's products are top of the line, he realises that making a push into the competitive and monopolised baby products market isn't going to be easy, with warnings that large corporations may try to squash the move using buyer incentives and discounts.
"The first 3 months of sales data is crucial. If your products are in a supermarket and you're not hitting proper sales rates, then you don't get to sit on the shelf," he said.
"It's hard though, I know; if there's a box of another product that's next to yours and it's half-price, it's hard for people not to take it.
"That's business, that's life. But at Thankyou knowing this competition can happen, it's really heightened our awareness.
"Part of this campaign is about asking people to buy the book, but don't just buy it because you want to do the right thing -- we want people to understand the 'why' behind it, to understand the story.
"We have 38 staff at Thankyou, but it's not just our team of 38 who are launching this nappy range.
"As of right now, it's 11,017 people but I hope it becomes 60,000 or 80,000.
"Then I think we'll be unstoppable."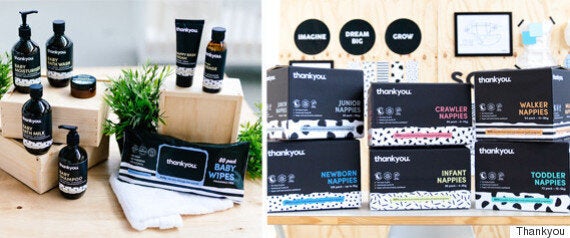 If Thankyou reach their funding target, the Thankyou Baby range will include nappies, wipes and lotions.