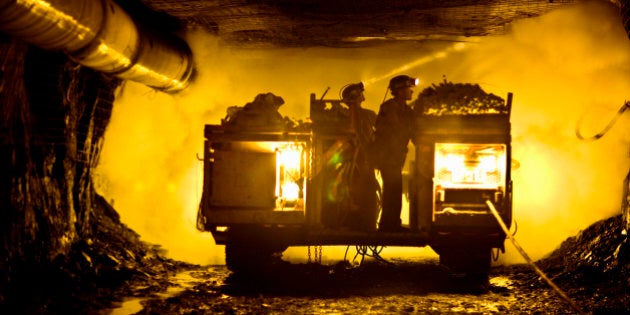 The union for coal miners says the screening process for picking up the potentially lethal black lung disease "is a mess" after revelations up to 1,000 Queensland mine workers could have contracted the crippling condition.
The Construction, Forestry, Mining and Energy Union (CFMEU) said 6 cases of coal miner's pneumoconiosis -- caused by long-term inhalation of coal dust --- were already confirmed in the state, while an unknown number were yet to be diagnosed.
The union said it was likely many former miners could have gone undiagnosed with the crippling disease because symptoms often developed many years following exposure and long after miners have retired.
The situation is so serious that a senate inquiry will sit in Queensland this month to investigate the re-emergence of the disease. The union's full submission to the inquiry can be read here.
CFMEU Queensland district secretary Stephen Smyth blamed mining company doctors and the health department for the outbreak of cases, saying it was the result of decades of mismanagement.
"Unfortunately as the result of all this we've got 6 confirmed cases of pneumoconiosis and an unknown number of others, it's the tip of the iceberg," he told The Huffington Post Australia.
"People need to put their hand up and accept responsibility and I think a lot of people are dodging it."
The Queensland Resources Council (QRC) has rejected the union's claims.
Since the early 1990s, Queensland coal miners have had to undergo pre-employment chest X-rays and then health screens at least once every 5 years. The health assessments must be sent to the Department of Natural Resources and Mines.
However, in 2015 the health department conceded 150,000 X-rays were still awaiting database entry, according to the ABC.
Smyth said many workers' X-rays still weren't being read at the proper international standard and that some doctors tasked with reading X-rays were conflicted because they were employed by mining companies.
"We want an independent group of doctors who are employed by the government, not by the coal companies, with an independent group of radiologists trained to the proper ILO (International Labor Organisation) standard, who can be an independent part of the industry," he said.
Smyth said some workers affected by black lung were also finding it tough to access compensation for their health woes.
According to NewsCorp, some of the impacted workers have filed compensation claims against Queensland mine owners BHP, Anglo and Vale.
"The system needs to be changed," Smyth said.
"We need to make sure we fix it because at the moment it's just a mess."
In January, the Queensland government released a 5-point plan aimed at identifying and preventing black lung, including a pledge to improve the existing screening system and take action on coal mines exceeding regulated limits on dust levels.