McDonalds
UPDATE: The limited edition range sold out completely within ten minutes of going on sale.
Ever loved your Macca's brekkie so much you wanted to wear your hash brown rather than just eat it?
McDonald's fans, unite. This option is now a possibility, with the fast food restaurant launching its own limited edition fashion range 'BrekkieWear', available to purchase via a dedicated eBay store from 2pm on Friday.
The launch is the final hurrah of the restaurant's 'All Day breakfast' national roll-out, with NSW and Queensland restaurants now serving up brekkie favourites 24/7 as of Friday 4 March, 2016.
Local designer Emma Mulholland came up with the unique range, which includes a button-up dress, pyjama pants and a t-shirt and features the 'heroes' of the Macca's breakfast -- the Bacon & Egg McMuffins and Hash Browns.
All proceeds from the sale will go to Ronald McDonald House Charities (RMHC).
"Aussies can now enjoy Macca's brekkie all day, at every one of our 950 restaurants. All Day Brekkie has proven a hit with customers everywhere we've launched it, and I'm expecting that success to continue now it's available right around the country," Paul Tredinnick, Senior Director of Marketing, McDonald's Australia, said.
"We all know there is never a bad time for a Hash Brown, and what better way to enjoy it than in our range of all day brekkiewear. Our collaboration with Emma Mulholland has been a lot of fun and will help to raise money for a great cause."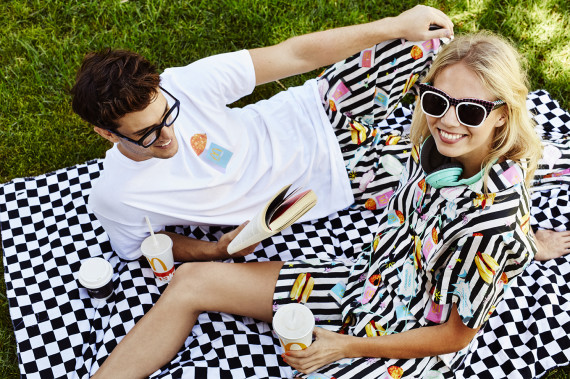 They're lovin' it.
"Like so many others, I'm excited that Macca's brekkie is now available all day, so I jumped at the chance to work with Macca's to create this line of all day pyjamas and help raise funds for RMHC," Mulholland said.
"I create unique designs that celebrate what Australians love and pieces that are comfortable to wear, so the ideas started flowing as soon as Macca's asked me collaborate with them on this range. I hope people enjoy the designs and jump online to buy their all day brekkiewear."
Those keen to get their mits on the range will need to hurry, as there are only 300 items available for sale.