Fairfax Media via Getty Images
Right now, more than one million Australians are not enrolled to vote. The Australian Electoral Commission commissioned a report exploring whether McDonald's, Starbucks, beer and pubs might be the key to decreasing that number.
The ABC today reported that a 2010 report from the AEC -- "Mobilise the Franchise; Menu of possible Interventions" -- detailed around 70 possible ways of increasing voter enrolment. The ABC said the report was "acquired through a Freedom of Information request", and outlines some novel ways of addressing the shortfall in enrolment, including commissioning fast food giants to offer rewards, allowing voting in alternative locations like pubs, using milk cartons and beer coasters to raise awareness,
Under one of the proposals, titled "corporate engagement," corporations like McDonald's, Starbucks, Hungry Jacks and Gloria Jeans would be targeted to promote democracy, enrolment and voting, "potentially even offering awards and incentives". The ARC would then "offer publicity on election day, particularly in relation to the tally room and on other AEC products".
So, potentially a free burger for voting, and the live TV tally room sponsored by McDonald's, is how we understand it. A far cry from the simple, classic sausage sizzle -- our beloved democracy sausage -- that is the current election day staple.
More than 1.06 million Australians were not enrolled to vote, as of December 2015, according to the AEC.
Under a heading "elections are the social norm," the report also flags an idea to consider alternative polling places, such as pubs, sporting venues and outdoor marquees -- so, a free burger while voting in the pub.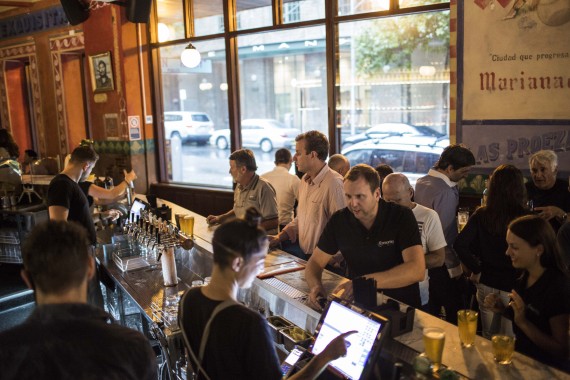 Would you vote in the pub?
Also cited is an idea for a "democrabus," a democracy bus that would park in community gathering spots and give information on voting. The idea is modelled after the "Healthy Harold" life education drug and lifestyle programs for primary students.
Also considered "bounties" for schools that collect completed enrolment forms. The report cites some states have offered schools $2.50 for each completed form, mentioning the scheme was "very cost-effective" and that it could be revived. Other ideas included a encouraging "TV script writers to include incidental references to enrolling and voting", instituting US-style "I voted" stickers and balloons, and "product placement opportunities."
In addition, the report flags the possibility of lowering the voting age to 16 or 17, from the current age 18, and making voting non-compulsory at these earlier ages.
AEC spokesman Phil Diak told the ABC that some of the report's ideas were adopted but that many others were obviously -- sadly -- not.
"As with all consultants' reports there was no requirement for the AEC to adopt all, or indeed any of the ideas generated," he said.
"[Some of the ideas] would not have been appropriate for the AEC to pursue, while others were not within the AEC's capacity."
For the full report, click here. For information on how to enrol to vote, visit the Australia Electoral Commission .