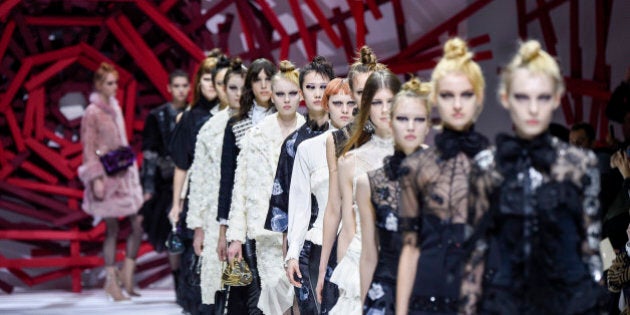 Whichever way you look at it, summer's sun is setting for another year and autumn is on its way, followed by winter -- and you know what that means.
"There are two strong colour palettes that are derived from two of the most key trends this winter," Toni Baston, Head of Women's Fashion at THE ICONIC told The Huffington Post Australia.
"The first revolves around a 70s revival featuring rich caramels, browns and gem tones of burgundy and teal.
"The second colour palette offers a neutral look with winter whites, greys and beige. With minimal and contemporary scandinavian influenced design, dark navy fits nicely into this minimal look, with dark indigo denim heavily prominent this winter," Baston said.
Teneille Ferguson, Myer International and Australian Designer Buyer agrees we will be seeling a lot of burgundy.
"Darker colour palettes are traditionally popular during the colder autumn months. Burgundy is this season's signature colour and is a rich, versatile shade that can be worn with more than you think. Designers such as White Suede, Daniel Avakian and Acler have all adopted moody burgundy tones in their current collections," Ferguson said.
In terms of silhouettes, expect to see more shoulder cut outs, as well as styles reminiscent of the disco era.
Tops and dresses with 'cold shoulder' silhouettes continue to be popular. On the opposite end of the scale, blouses and dresses featuring a distinct buttoned up, high collared neckline are also on trend," Ferguson said.
"Ruffles are huge this season. From pretty frills to oversized decoration, ruffles are appearing on everything from sleeves to collars to hemlines. 70s inspired shapes continue to dominant for autumn -- think bell sleeves, fringing and hip-hugging flared trousers, however hem lengths are rising on the popular flare. A pair of cropped denim flares is my must-have piece for the season."
When it comes to footwear, the stiletto is taking the back bench this season (to the relief of every woman everywhere).
"We won't need to worry about wobbling around on thin stiletto heels this season as the block heel is leading footwear trends in many different shapes from boots to pumps," Baston said.
"The 70s influenced 'Sock Boot' fits firmly around the ankle and can be worn as easily with a flowing floral dress or with your favorite skinny ankle grazer jeans. For a comfortable option, stark white leisure sneakers will continue their dominance and will still be a staple style this Winter."
Joanne Mercer, Myer General Manager of Footwear and accessories reveals block heels are also big.
"Key footwear styles that we will be seeing this season are flat or heeled over the knee boots, ankle boots to pair with cropped pants and block heels -- but not too high! Suede is the fabric of the season in regal tones like bordeaux, ochre, cognac and plum. Versatile and comfortable, white sneakers are also on-trend. To achieve a cool, minimal look wear with ankle grazing denim or a flirty skirt," Mercer said.
Kicks are still big for the guys, too.
"Sneakers continue to infiltrate men's everyday wardrobes. Guys are wearing their kicks with chinos and a blazer for a smart office look. Also worth noting, the desert boot is back in a big way thanks mostly to Clarks Originals," Robert Moore Head of Men's Fashion, THE ICONIC told HuffPost Australia.
Chris Wilson, Myer General Manager of Menswear explains that chinos are still in for the cooler months, paired with a well tailored blazer.
"This season men are moving towards colourful separates, embracing the sharp jacket and tailored chino pant look. From elevated casual, through to relaxed formal style, brands such as Scotch & Soda and M.J. Bale have some cool separate pieces that make your wardrobe essentials more versatile."
"Layering is another big trend for autumn and key when it comes to the warmer Australian climate. Start with cotton basics, build it up with slightly thicker pieces and top it off with a heavy, wind resistant jacket. Adding or removing layers will help you strategically battle the many seasons that one day can bring."
"In men's suiting the trend is heading towards grey, although blue still the colour of choice. From navy to cobalt to steel blue any shade of blue is on trend this season. Accessories are a necessity when completing your suiting ensemble. Textured knit ties, pocket squares and bow ties in burgundy, dark green and grey shades are all hugely popular for Autumn," Wilson said.