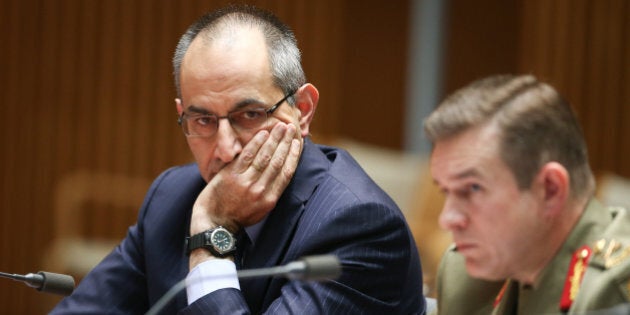 Michael Pezzullo, Secretary of the Department of Immigration and Border Protection, has penned a 1200-word editorial-style defence of Australia's immigration and detention policy, but it is a seemingly clumsy reference to the Holocaust which has promoted outrage.
Pezzullo's piece, "Immigration detention and children: separating fact from fiction," was published on Tuesday on the department's news release page, usually where media releases and updates on Border Force operations are posted. In the editorial piece, Pezzullo defends his department's actions and operations, addressing criticism in media and social media.
"For the reputation of my Department and its officers, it is crucial that I set the record straight: the Department and its uniformed operational arm, the Australian Border Force, does not operate beyond the law, nor is it an immoral 'rogue agency'," he wrote.
"While policy can be debated, there should be no place for falsehood, rumour and unfounded speculation. People smugglers are constantly poised to jump on any relevant mistruth in order to convince prospective asylum seekers to pay them to get to Australia. That is also why official statements on this issue have to be precise and unambiguous as to the essential objective of government policy."
However, a reference to Nazi Germany in the third paragraph of the piece prompted confusion and anger.
"Recent comparisons of immigration detention centres to 'gulags'; suggestions that detention involves a "public numbing and indifference" similar to that allegedly experienced in Nazi Germany; and persistent suggestions that detention facilities are places of 'torture' are highly offensive, unwarranted and plainly wrong – and yet they continue to be made in some quarters," Pezzullo wrote (emphasis added by HuffPost Australia).
The reference to public numbing and indifference is almost certainly a response to a Fairfax Media piece from February, where psychiatrist Dr Michael Dudley said Australian citizens had become used to and accepted the conditions in detention centres, in a similar way that citizens in Nazi Germany had been numb and indifferent to the treatment of Jewish people.
It seemed Pezzullo had simply chosen his words poorly, most likely intending that Australians had "allegedly" become indifferent and numbed to the treatment of asylum seekers -- not that such events had "allegedly" happened in Nazi Germany.
In response to the growing Twitter storm, the department issued a second release.
"Any insinuation the Department denies the atrocities committed in Nazi Germany are both ridiculous and baseless. This has been wilfully taken out of context and reflects deliberate attempts to distort this opinion editorial to create controversy," the follow-up claimed.
"The term 'allegedly' was used to counter claims of 'public numbing and indifference' towards state abuses in Nazi Germany and the link to immigration detention in Australia. We reject the comparison to immigration detention as offensive and question this being made as a blanket statement -- an allegation hence 'allegedly' -- to describe the attitude of the German population at large during that terrible time."