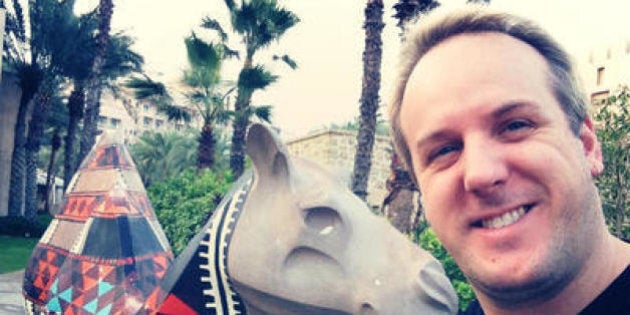 The former wife of paedophile Grant Davies, owner of former dance studio RG Dance, said she was "afraid of him" and "ended up feeling like the crazy one" when she confronted him about his "overly familiar" behaviour towards his students.
The primary school teacher, known as BZB, appeared in front of the Royal Commission on Wednesday to discuss her response to Mr Davies' allegations of child sex abuse, as she approached him about sending online messages to young girls and driving another student home in his car.
"I gave him my viewpoint as a teacher and told him it was inappropriate. Grant shut me down (as usual), saying 'I'm a dance coach, I have a different kind of relationship,'" BZB told the commission.
"He made me feel like I could not begin to understand how the relationship I had with my students was nothing compared to the elite performance level he required of his students -- so I was in no position to make a judgement."
"His arguments were strong, and I found it hard to counter them."
BZB told the commission of occasions of domestic violence in their marriage that led to her becoming fearful of addressing rumours concerning Davies' behaviour.
"Any arguments had the potential to turn violent…I was afraid for my personal safety to do anything that may aggravate him."
The royal commission heard that two Apprehended Violence Orders against him were sort, with one being granted.
But despite this, BZB did not imagine the scope of his indecent behaviour towards young students.
"Even though I knew he was emotionally or physically abusing me, I never once thought that Grant was capable of harming a child. He convinced me that he was a loving father, that he cared for his students and that he could be relied on to have childrens' best interests at heart.
BZB, who has a young daughter with Davies, told the commission that she had first become aware of his online 'grooming' behaviour in early 2007.
She received a call from a tearful Davies who admitted that he had an inappropriate conversation with a female student and revealed a sexual dream that involved himself, the young girl and another student.
"He said, 'I need your help.' At the time, he didn't tell me what the conversation was about. I just recall saying, 'I would try to help you.'"
According to the witness, Grant Davies would not discuss further details about the incident.
"He would get upset and angry and say, 'I can't talk about this. Please understand…I'm ashamed and embarrassed."
Two months later, Davies was initially reported to police and a search warrant of their former premises was executed.
BZB told the commission that she was aware Mr Davies had disposed of his computer containing evidence whilst on holiday in Hamilton Island, buying a new one prior to the warrant.
She thought Davies' behaviour was "extreme" and said he "should be straight with police".
Throughout the search warrant, BZB said that she had no contact with the police and was unaware of the extent of Davies' communication with multiple students.
"If I had known more about the allegations, then I wouldn't have supported Grant…Yes, I think I would have told them."
In 2013, BZB went to the police after finding sexually explicit iMessages between himself and one young girl as well as a pool of disturbing images.
"Grant was saying 'delete the messages so that mum doesn't see'…. I found various photos of BZD wearing a G-string."
Grant Davies was arrested and charged with 63 child sex offences in May 2013, later pleading guilty to further charges in September last year. He is awaiting sentencing.
"I now believe that someone with such violence and abuse at heart cannot be considered to be a good father and should not be allowed to work with children," BZB concluded at the hearing.
"I believe that authorities that had knowledge of both of his domestic violence and of the full nature of the allegations made against him in 2007 did not do enough to protect those around him.
"I believe that the system around us did not do enough to inform us."
The hearing into child sex abuse in performing arts schools continues.