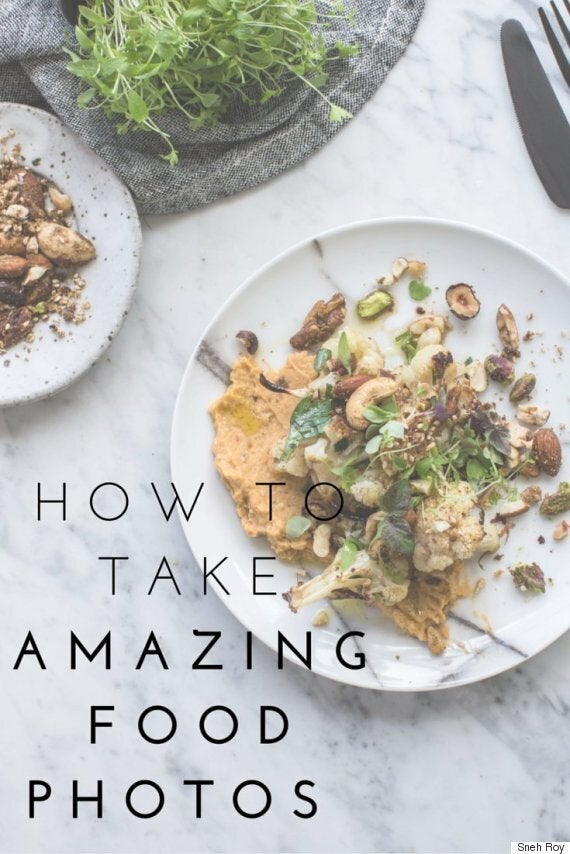 If you eat a meal but didn't Instagram it, did you technically eat it? Well, yes, but you've missed the opportunity to humblebrag about the amazing acai bowl or avo smash you had the pleasure of eating.
Let's face it -- taking photos of our food is fun. We enjoy capturing great food we've ordered or made ourselves, planning the composition and choosing the right filter to enhance the colours of a beautiful dish.
We live in a 'pics, or it didn't happen', world, so why not embrace taking food photos and make them even greater?
These tips are created by food and lifestyle photography extraordinaire, Sneh Roy, from the food styling workshop for Nuts for Life's #nuts30days30ways March challenge.
The styling and photography tips are perfect for anyone who loves taking and looking at food photos. For those non-Insta-inclined friends/boyfriends/girlfriends -- who sit while you stand on the cafe chair to get the best angle and patiently wait while you move that fork or napkin ever-so-slightly 10 times -- we say sorry. (But not really because the semi-cold poached eggs were totally worth it.)
"There are three key components to the perfect food photo," Roy said. "Composition, colour and storytelling."
"Imagine there are three parallel lines equally spaced both vertically and horizontally in the space you are composing your image," Roy said.
"Where the lines intersect is a great place for the subject of your image -- this creates a balanced photo."
According to Roy, within this rule of thirds, there are six ways to compose an image:
"Don't be afraid to crop close to your subject matter for a high impact image, or crop the edges of your subject out," Roy said.
"By placing the focus on just one item (your subject matter), you achieve maximum impact," Roy said.
"Using the rule of thirds, place the subject in any of the intersection points for the most visually pleasing composition."
"The flow technique uses the visual elements of your photo to guide the eye through the image. You can also use the intersecting lines to help draw the eye through the image as you tell your story," Roy said.
"Some examples could include the positioning of knives and forks angled in the direction you want the viewer's eye to travel."
4. Symmetry and centering
"Symmetry and centering your subject matter can also be attractive," Roy said.
"Look for natural frames around your subject matter to ensure all elements of your image, including dominant features like a window frame, are symmetrical."
5. Grids, patterns and repetition
"Look for geometric patterns or repeat the hero of the image," Roy said.
"Just make sure lines are parallel by using the grid lines on your phone and, for overhead shots, make sure the phone is parallel to the surface you are shooting on."
"This technique combines all the above techniques, while also using the negative space," Roy said.
"Start with a neutral palette of white, beige, black, grey or dark browns and keep the palette consistent," Roy said. "Maintaining a neutral palette ensures the subject matter's colour will pop."
"Include 1-2 colours to your photo but no more than three colours to maintain balance," Roy said. "Include colour on the elements of your photo that you would like to highlight."
Roy also suggests to be aware of the texture of the surface on which you are shooting and how that may affect your photo.
"For instance, a shiny black surface may reflect the light of your flash (if using a flash) or reflect yourself as you take the photo," Roy said.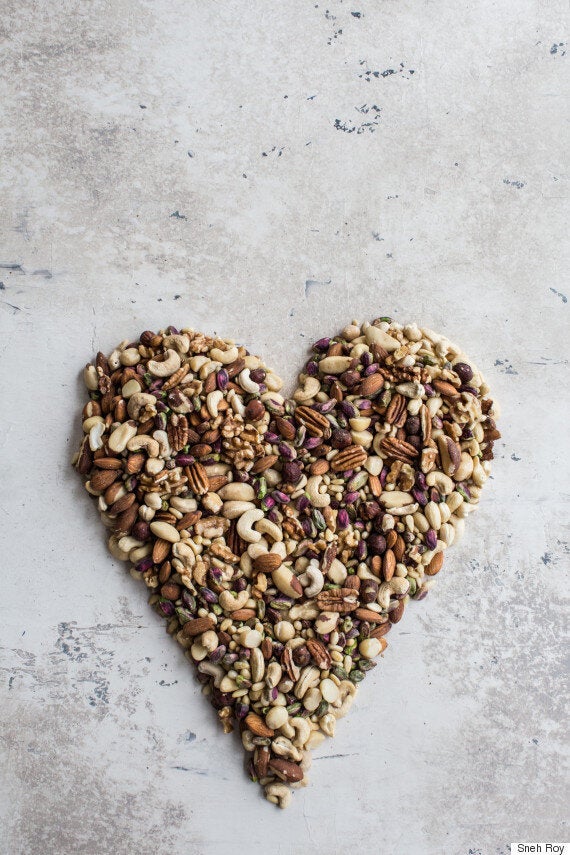 "Each photo should tell a visual story about your subject matter," Roy said. "One effective way to tell a story is by creating a vignette, which combines several elements in the one image that are related to the subject matter. The added elements should complement the subject."
"Use the images to tell the story of your food or ask a question to engage the viewer -- for example, photograph ingredients on a board or bowl and ask, 'What am I making today?' or, 'What's for dinner tonight?'"
"It's also fun to experiment with block shapes -- for example, assembling mixed nuts in a heart shape or in a jar and asking an engaging question like, 'What's your favourite nut?' or, 'How many nuts are there?'"
"Use the edge of a table, window frame, chopping board even a plate or tray to keep together items you wish to shoot -- it keeps the eye on the prize," Roy said. "Even adding a human element can frame the picture."
"Lock the focus and control the brightness -- to lock the focus of your iPhone camera, hold your finger over the focal point of the image you are shooting and press down for 2-3 seconds," Roy said. "Your iPhone should say 'AE/AF LOCK', which tells you the focus is locked in place."
"Once locked, you can scroll up and down near the sun symbol to change the brightness of the image to create a different mood. To refocus your image, just tap the screen anywhere and the focus will unlock."
For editing programs, Roy recommends using the app VSCO Cam or Instagram.
"Both apps provide a range of filters to give your phone different moods, as well as alignment tools, brightness, contrast controls and colour editing abilities," Roy said.