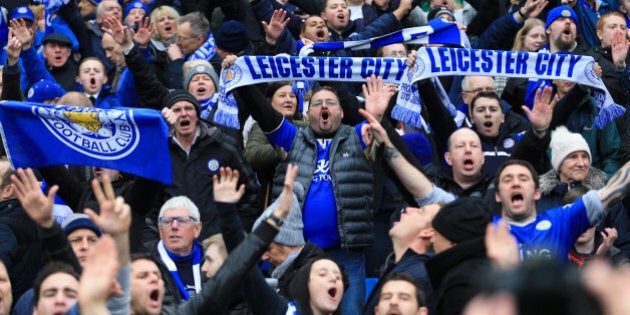 Leicester City leads the Premier League in 2016. The unfancied club known as the Foxes has really shaken up the natural order of things this season. Now rumblings are emerging that Foxes fans got so excited recently, they actually caused an earthquake.
This happened when Leicester's Argentine striker Leonardo Ulloa netted an 89th minute winner against Norwich City on February 27 to keep their noses in front in the title race.
The match had been 0-0 until that point. Teams get three points for a win and just one for a draw, so the goal was invaluable. They often say in sport that you could cut the tension with a knife. Turns out you could also measure the excitement with a seismometer. Literally.
A team of geoscience students from the University of Leicester installed a seismometer near Leicester City's King Power stadium as part of a project designed to get more local people interested in science. Which by the way, seems to be working.
The team is using the @Vardyquake Twitter account to publicise their research. The handle refers to Jamie Vardy, the Leicester City striker who currently leads the Premier League goal scoring list with 19.
Here's a graphic of the quake.
Here's a GIF of the goal.
And here's a funny thing, which proves that geoscientists have a sense of humour too. We bet their favourite comedian is Chris Rock.
British Geological Survey seismologist Paul Denton attributed the 0.3 magnitude tremor to a "sudden energy release".
"It wasn't just a case of cheering or clapping, it was 30,000 people standing up at the same time -- an awful amount of energy," he told the BBC.
Having said all that, a 0.3 magnitude "quake" is not actually THAT much energy. A freight train going by creates about the same output. Perhaps the biggest seismic shift here is in the football landscape.
Leicester City was 20th and dead last at this stage of last season. The bottom three teams are relegated each year and Leicester faced a desperate fight just to keep playing Premier League football. This the Foxes achieved, winding up a respectable 14th.
But no one expected them to be lurking in the top half of the ladder this season, let alone leading the premiership by five points with nine matches to play. But that's how things are. The title is now Leicester's to lose.
Leicester used to tremble when it played pretty much anyone. Now the Foxes are at the epicentre of English football and it's opposition players who are quaking in their boots.