At 33 years of age, comedian Luke McGregor was convinced sex was not going to be a part of his life. Having only had sex twice at that stage, McGregor thought it was going to be one of those things that would just pass him by.
"I just didn't think that area of my life would be something that would take off," McGregor told The Huffington Post Australia. "I thought I would be a person that didn't have sex. I would just use that time to play video games or something."
McGregor's frank curiosity about sex -- and his previous lack of understanding around it -- soon served as material in his stand-up routines, where the Tasmanian-born redhead would ask the audience for advice or hand out surveys at the end of the night.
Little did he know then that his often awkward, always honest approach to the subject matter would find its way to Karina Holden, Head of Factual at Northern Pictures, and cue the idea for a new series in which McGregor would be the star -- and guinea pig.
'Luke Warm Sex' is a six-part series for the ABC in which McGregor tries to get better at sex. With a host of sexperts, therapists, scientists, tantric practitioners and sexual empowerment coaches to help him on his way, McGregor explores everything from nudist colonies to anatomy lessons to fetish clubs -- all in the hope of better understanding the act which has so eluded him.
So what did McGregor first think when Holden approached him with the idea?
"Just to say no," McGregor told HuffPost Australia. "I [had covered these issues] in a stand-up bit, so it was already something I was curious about -- how you get better at this thing we are supposed to know how to do. But as soon as I was approached by Northern Pictures I was like, 'oh, it's probably too embarrassing'.
"Then I thought the worst case scenario would be that I'd do the show, it would be revealed how terrible I am and I wouldn't have any sex in the future. I was already not having sex at that stage, so I thought there was nothing to lose.
"I guess it made me start thinking about my sex life more and I just thought, 'if I don't take care of it now, when am I going to take care of it?' And the show felt like an opportunity to do that. If anyone had the same fears as I did, maybe I could bring them with me and I could ask those questions for them. I got more and more excited about it the more I thought about it."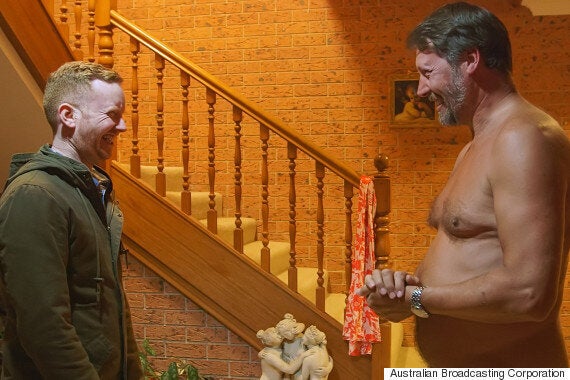 Luke McGregor with naturist Stuart Whelan.
And so McGregor took the plunge, though at times, he questioned whether he should have ever signed up in the first place.
"The producers said I could say 'no' at any time, even if we had set up for filming, and that made me more comfortable," McGregor said.
"There were never really boundaries set. They just said if we ever came to filming and I said 'I just can't do this' then I didn't have to.
"The closest I got to [honouring that] was probably at the nudist colony. I was standing there in this room, and I had taken all my clothes off except my underpants and I was standing in front of the mirror thinking, 'this is a terrible idea. I should never have done this show'.
"That was hard, because I don't like my body very much and up until that point I couldn't even be naked with someone I was intimate with. It had to be lights off and sheets over us. So that was probably the hardest thing to do."
But one persistent thought kept McGregor from throwing in (or throwing on) the towel.
"I kept on trying to focus on the fact that having that fear wasn't making my life better," McGregor explained. "I didn't like that I was scared of it. It was making my life worse. I thought, 'do you want to keep on being like that or do you want to change it?' So that made me go out there and do it. But the wine helped. And I also thought I could always set fire to the edit suite if it was really bad."
Luckily for viewers McGregor refrained from torching anything to the ground and is (almost) ready to share what he learnt with the world.
"The biggest lesson was even if you learn, say, a specific clitoral massage technique... everyone is going to want it at a different pressure or speed or length of time. You have to communicate. You have to ask and talk. I don't know why, but up until that point in my life I thought talking about sex was a mood killer or communication would kill the mood," McGregor said.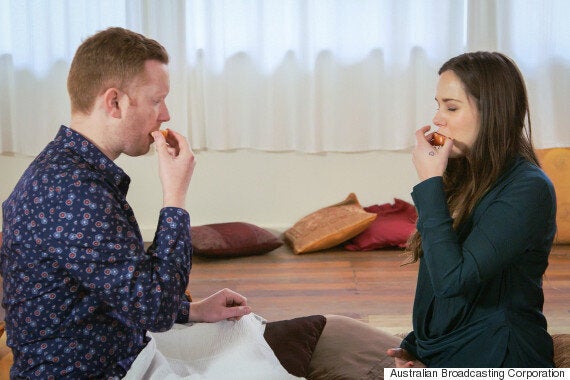 McGregor practicing kissing on a tomato with sexual empowerment guide Shaney Marie.
"You know, in movies, it goes perfectly. They are never asking each other about anything. It sort of cuts to the curtains and then next thing they are sprawled on the bed saying 'oh wow, that was the best ever' and they never say what they did, and you're sort of like 'what did you do that was the best?'
"Learning that communication was in fact a mood enhancer was the biggest 'ah-hah' moment for me.
"Then it was like, even if you are trying something new with someone, you have another human you can say, 'how does that feel?' to and they can say 'just a little faster' or something -- it's just so simple.
"I wish I had learned that in high school, or any time earlier. That was the big one for me. Also I didn't know where the clitoris was, and now I do, so yay!"
McGregor says part of his previous lack of sexual knowledge can be attested to not only a lack of experience, but a lack of education.
"I never learnt about sex in terms of pleasure. It was all, 'this is how you make a baby, and this is how you possibly get a disease.' It was like sex in terms of Tetris. This block matches this block," he said.
"I would have loved something as even simple as [some information about] penis size. When I was a kid, as soon as I saw someone with a bigger penis with me, I thought 'oh, they must have a better one then'. Or that they must be better at sex.
Just because no one ever told me that's not how it works. Just if someone had said, 'look it's not size that's important, actually your penis is the hardest organ to stimulate the clitoris with. All it does is stand up straight and that's about all it can do.'
"I was told these things about anatomy and pleasure -- and really simple things such as if you are a guy with a larger penis, to maybe be careful with it because it can hurt, and things like that.
"All that stuff would have been amazing to know earlier on. I wish sex was taught in terms of that as well."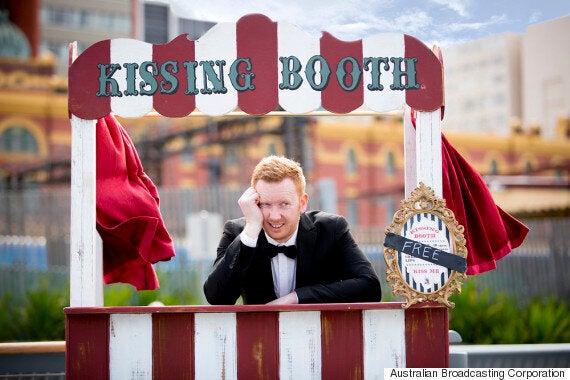 After his kissing lesson, McGregor puts his skills to the test.
In case you haven't figured it out by now, those looking for a show that's a gag-a-minute, rompy pompy skit with a pre-recorded laugh track should look somewhere else. While 'Luke Warm Sex' is certainly funny, it's also an honest, endearing (and often informative) account of one man's struggle to learn more about sex, in all its forms.
"When we first sat down to write it, we thought we would do a technique or a bunch of techniques per episode," McGregor recalled.
"But when I started writing with [Hayden Guppy, the show's director] it made me realise how much I didn't know about sex. Most of what I had around sex was anxiety and fear around it. We just thought, 'why don't we sort those out first?'
"So then it became about the fear of being nude, the fear of being touched, and then it came back to contraception because I didn't really know much about contraception. I didn't know what the different options were or how effective they were. I had never used lube before.
"We tried to break it down into my fears so it became less an instructional show and more about sex as a concept. We still wanted to have things where we were learning techniques, but it became a smaller part of it.
"As we tried to define sex for the show, we realised how all-encompassing it is as a term. The show just started to branch out. Then we also wanted to cover things like fetish and preference and how porn can affect your sex life and it became bigger and bigger as we went on."
Now that the air-date is looming, how does McGregor feel about sharing his story with the rest of the nation?
"I feel good. I'm excited for people to see it but really scared as well, just because it is so personal. But I don't know, we'll see. The worst case scenario is that I don't get any sex afterwards which is fine because that was the case before so it doesn't matter," McGregor said.
"I really hope if anyone is currently unsatisfied with their sex lives that the show encourages them to take any sort of step to improve it. If they are with someone and are feeling like the sex together isn't what they want to it to be, that they start talking or communicating about it.
"For me, it's definitely been worthwhile because I guess I don't have any fears anymore. Now it's just a fun area, to be affectionate with someone... kissing and dating... it's just a fun thing rather than this massive deal that has to be scary or horrible.
"I guess I do feel more confident. But it's more just a lack of anxiety. It's just fun now. Sex is enjoyable. Now I really look forward to it rather than pretending to fall asleep."
And finally, the question on everybody's minds -- has McGregor had a chance to put any of his new knowledge into practice?
"Yes I have," he laughs. "I am having sex and I am having fun."
'Luke Warm Sex' will air on Wednesday, 16 March on the ABC from 9pm.
Want more? Check out the clip below to see what happens when a group of STDs invade your house.