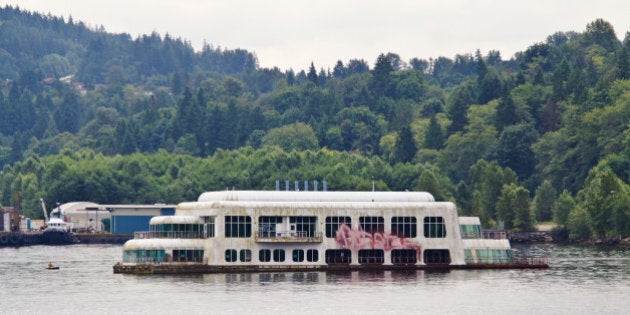 Where do you eat your Macca's? In-store after a big night out, or in the car after making a quick trip through the drive through?
Wherever it may be, we're fairly sure you've never eaten it on the rare McBarge, a floating McDonald's that has been abandoned for 30 years.
Sure, it looks creepy and dilapidated now (and would probably be the last place that anyone would want to dig into a Big Mac), but in 1986 it was filled with people enjoying their burgers and fries while floating on Vancouver Harbour and enjoying the World Expo.
Officially named 'Friendship 500', the McBarge was purposely designed for the 1986 World Expo, hosted by Canada, to show off the cutting edge technology and designs of the era.
Much like today, McDonald's was under increasing pressure to appeal to class-conscious young people who had increasingly began to reject chain restaurants during the 1980s.
On board, there were wooden floors, garden rooms, tasteful art and panoramic views of the Expo. The kitchen was also hidden from customers, with conveyor belts delivering shakes and fries to the front counter.
In addition to this, there was even a tiny tugboat that pulled up alongside the barge to collect Big Mac wrappers and cups that had been tossed overboard by people.
Plans to move the boat to a new location when the Expo ended fell through, and it was moved to a nearby inlet where it was left to live a life of solitude…until now.
The owner of the McBarge, Howard Meakin, president of Sturgeon's Developments, told the Vancouver Sun that the boat will soon be setting sail for a new life as an attraction but remained tight lipped on what type or where.
"It will be restored and refitted," he said.
"It could be in Vancouver, but it could be in other places as well. We're not saying exactly where it's going to be located, but the plan is that it will undergo extensive renovations.
"And I can't tell you what the plan is. We're under a non-disclosure agreement, but it fits in with the 30th anniversary of the Exposition. It will all happen in 2016, and we expect that it's going to take probably most of the year to do the work."